Description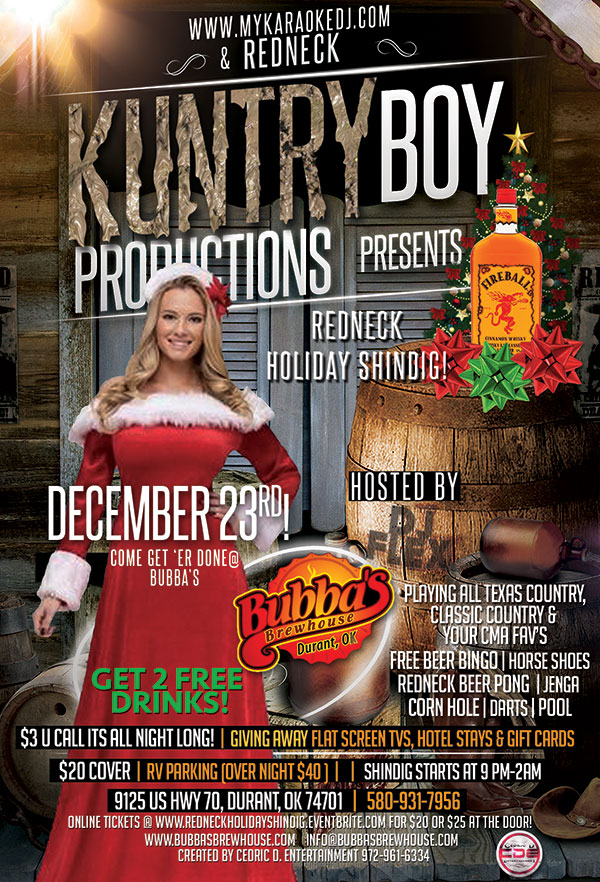 Hosted by: DJFlex @ Bubba's Brewhouse 9125 US HWY 70, Durant, Ok 74701


Event is from 9pm-2am Friday December 23rd, Day before Christmas Eve.
Details: This here is a public event. I'm Callin' on all my redneck kuntry folk who lookin to stir up a little dust and let loose on a friday night before Santa and the rest of the relatives decide to visit. If ya simply want to get away from that crazy family of yours that may be in town a few days too early, then you've found the right party to attend. If ya family ain't crazy, then bring 'em on. Hell we'll take the crazy ones too. So come on out and get 'er done, as opposed to sitting on the couch and storing up calories well into Christmas Day. Relax, have a few cocktails, and win some fabulous prizes, while continuing to enjoy the company of a buncha redneck Muricans just like yerself. This here is gone be a shindig ya won't forget.


The price of admission is $20. This INCLUDES 2 complimentary drinks and it's $3 U CALL IT'S ALL NIGHT LONG! PLUS WE'RE GIVING AWAY FABULOUS PRIZES SUCH AS FLAT SCREEN TVS, HOTEL STAYS, GIFT CARDS and a lot more, so your $20 goes a long way.

YOU CAN BRING YOUR RV'S AND STAY OVERNIGHT. WE HAVE PLENTY OF PARKING.
If your bringing the RV and staying overnight it's $40 (and $20 per persons inside the RV except the driver) as we have a dry camp situation and you can stay on the property for the night.

What else do I get for my money?
- Video DJ (DJFLEX) for 4 hours, will be playing the best Texas Country, Classic Country,( and a little Bro Country) Videos for your listening and viewing pleasure. Dance floor is open.

- FREE DRINK BINGO-Throughout the evening we will have FREE DRINK Bingo where someone will receive a free cocktail of choice every 30 minutes.

- Your first 2 drinks are complimentary. That's right! Thanksgiving is about giving and so this is our way of saying Thanks for comin out. After that it will be $3 U CALL IT'S for the remainder of the evening.
- Games Games Games - We have Redneck Beer Pong, Horseshoe Pits, Jenga, Pool, Darts, Corn Hole. You can't lose.

- PLEASE KEEP YOUR PURCHASED TICKET. Your ticket should be provided to the VIDEO DJ (DJFLEX) prior to the prize giveaways that evening. We'll mark them initially for the first 2 drinks, after that, give them to Flex. Below is a list of prize giveaways throughout the evening.

a. gift certificates
b. flat screen tvs

c. hotel stays

d. ca$h

THE MORE PEOPLE THAT COME THE BIGGER AND MORE VALUABLE PRIZES I WILL GIVE AWAY SO YOU HAVE AN INCENTIVE TO SHARE THIS WITH YOUR FRIENDS.