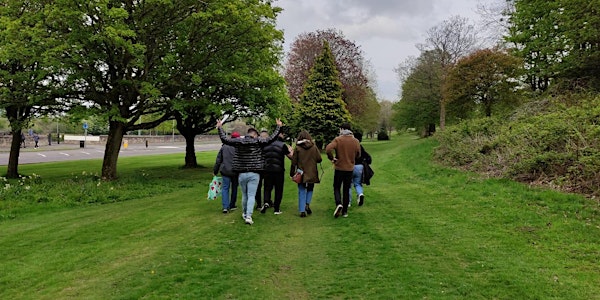 Rediscovering the Antonine Wall - Walk and Picnic - Refugee Festival
Location
The Walk starts at CSREC, Unit 8, Howgate Shopping Centre, Falkirk FK1 1HG. The walk ends at midday at Callendar Park where there will be a picnic provided.
Unit 8, Howgate Shopping Centre
Falkirk
FK1 1HG
United Kingdom
Members of the Global Language Café at CSREC and Artist Paria Goodarzi Invite You on a Walk and Picnic Along the Antonine Wall
About this event
The Global Language Café invites you to participate in a walk from CESREC's shopfront at the Howgate Shopping Centre along the historic site of the Antonine Wall to Callendar Park where we will share a picnic lunch.
As we walk we will explore stories and artwork that people from the Language Café group have made with artist Paria Goodarzi as part of the Rediscovering the Antonine Wall project.
"The 'rediscovery' of the Antonine Wall serves as a metaphor here for the migration process - like moving from one place to another the Wall takes on new meanings in its remote new home in the present. As a group we have also adopted new ways, changed the languages we speak and the ways we see the world within the rapid political and social changes that we have witnessed." - Paria Goodarzi
This event is part of the Refugee Festival Scotland, 2022.
About Us
- the Global Language Cafe group come together once per week to practice English in an environment where their existing skills and knowledge of languages are valued.
- Paria Goodarzi's artwork explores processes that relate to hybridity and identity transformation using multidisciplinary collaborative approaches. Her work provides platforms to engage communities through workshop facilitation and creative making, supporting mental health and wellbeing agendas across museums and galleries in Scotland. Goodarzi is a UNESCO RILA Affiliated Artist  and co-founder of  the art initiative 'Distanced Assemblage'.
http://distancedassemblage.com/
- Central Scotland Regional Equalities Council (CSREC) was established to eradicate all forms of discrimination under the Race Relations Act 1976, CSREC is based in Falkirk and works across Clackmannanshire, Falkirk and Stirling Council areas. Where people experience barriers to exercising their rights, we work with them to overcome those barriers, help them to empower themselves and build resilience. Our work also addresses the needs of people facing structural racism and inequality through partnership work, awareness-raising, training and consultancy at the organisational level with public, private and third sectors.
https://csrec.org.uk/
- The Rediscovering the Antonine Wall project is a four year project that aims to raise awareness of the Antonine Wall, primarily amongst local communities but also with visitors. The project will run until August 2022 and has received funding from the National Lottery Heritage Fund, the Kelvin Valley & Falkirk LEADER Programme, five local authorities and Historic Environment Scotland.
https://rediscoveringtheantoninewall.org/