Description
---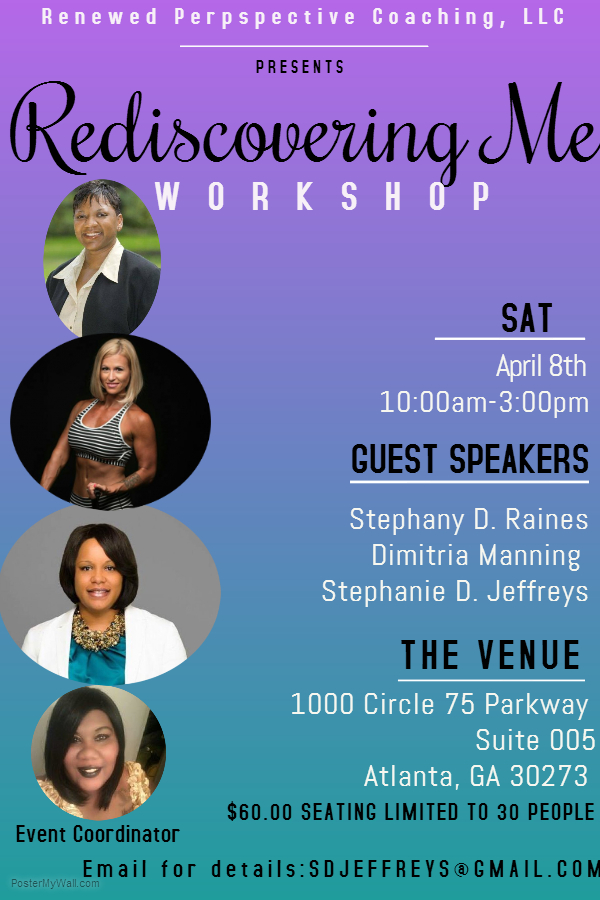 ---
Welcome to the first step of Renewing your Perspective, and Renewing your Life. The Journey of learning ourselves is often the most difficult, but in the end it's ultimately the most rewarding. Self-discovery is not always easy, but it is the key your happiness. Take up the challenge today to create the better version of you. Connect with success and Redefine your goals in life.
You deserve to know you!!
As you take this journey remember:
It's all about YOU.

You are WORTH the work you put in.

You can't afford to quit on YOU.
During this workshop you will be creating a Vision Board. A Vision Board is a powerful visual tool that combines the Law of Attraction and the activating of your Faith to begin manifesting your dreams into reality. The only thing that you have to bring for your vision board is your Vision, Dreams, Purpose and Faith along with Magazines that represent pictures that you would like to add to your Vision Board. The event is limited to 30 seats, so Register NOW!
Registration will be held 9:15 – 9:55 am. Workshops sessions will begin at 10:00. Refreshments, Lunch, and all Workshop and Vision Board materials are provided.
* No refunds will be given. However, you may transfer the ticket(s) to another party. Please contact Stephanie Jeffreys for information on this process.
How can I contact the organizer with any questions?
You may contact Stephanie Jeffreys at sdjeffreys@gmail.com should you have any questions.