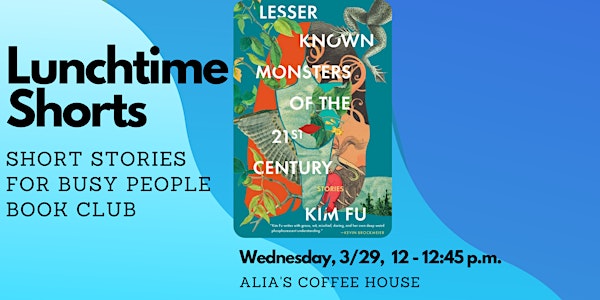 Rediscovered Books Lunchtime Shorts - A book club for busy people
Short on time, but still want a book club experience? Join Rediscovered Books for our monthly Lunchtime Shorts Book Club.
Date and time
Wednesday, March 29 · 12 - 1pm MDT
Location
Alia's Coffee House 908 West Main Street Boise, ID 83702
About this event
Short on time but still looking for a Book Club experience? Join Rediscovered Books for a lunchtime book club that read only short stories or novellas. Make the most of your time and enjoy yourself while doing it.
Seating is limited, registration required. Ticket includes book and $5 voucher for Alia's Coffee House.
In the twelve unforgettable tales of Lesser Known Monsters of the 21st Century, the strange is made familiar and the familiar strange, such that a girl growing wings on her legs feels like an ordinary rite of passage, while a bug-infested house becomes an impossible, Kafkaesque nightmare. Each story builds a new world all its own: a group of children steal a haunted doll; a runaway bride encounters a sea monster; a vendor sells toy boxes that seemingly control the passage of time; an insomniac is seduced by the Sandman. These visions of modern life wrestle with themes of death and technological consequence, guilt and sexuality, and unmask the contradictions that exist within all of us.
Mesmerizing, electric, and wholly original, Kim Fu's Lesser Known Monsters of the 21st Century blurs the boundaries of the real and fantastic, offering intricate and surprising insights into human nature.
About the organizer
Rediscovered Books, and independent bookstore with locations in Boise and Caldwell Idaho, is a place where books and people meet. We host over 200 events a year at our locations and in partnership with many organizations across the Treasure Valley. We love our community and look forward to seeing you.