Rediscover Waller | Waller Creek Life
Actions and Detail Panel
Rediscover Waller | Waller Creek Life
Sat, October 15, 2016, 10:00 AM – 11:30 AM CDT
Event Information
Location
Pedestrian Bridge over Waller Creek, on the Hike and Bike Trail
Description
Join scientists from the City of Austin Watershed Protection Department and staff from the Waller Creek Conservancy to learn about plant life of the Waller Creek delta and the re-creation of Waller Creek. As you may already know, Waller Creek is undergoing a major transformation. This transformation includes not only signature parks and connected trails but also improvements to the health of the creek and related ecosystems. This event will give attendees insight into how the Waller Creek project will enhance the area's habitat over time. Together we will investigate biodiversity by hunting for native and invasive plants at the mouth of Waller Creek. There will also be prizes awarded for the winner of the plant hunt!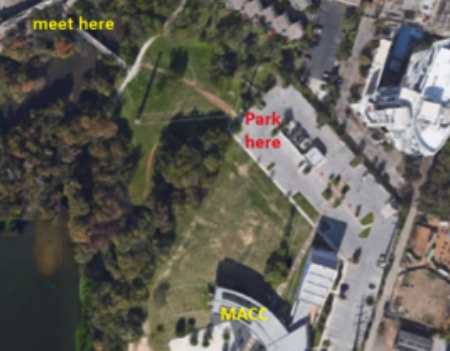 Date: October 15, 2016
Time: 10-11:30 am
Parking: 600 River St. (Mexican American Cultural Center, MACC)
Meeting point: Pedestrian bridge on the hike and bike trail over Waller Creek, NW of 600 River Street.
Biking or riding Cap metro is encouraged.
Note: Wear comfortable clothes and walking shoes. Bring a water bottle with you. Trail is uneven in areas. All ages welcome (children with adult supervision). There is not a restroom onsite, please plan accordingly.
Date and Time
Location
Pedestrian Bridge over Waller Creek, on the Hike and Bike Trail