Description
Join The Frederick Douglass Foundation of New York, and His Way House, Inc. on Saturday, September 29 from 1030am to 330pm as we celebrate the life and legacy of a great American, Frederick Douglass. It is sure to encourage, entertain, challenge and educate you, as we unify, to.... Tickets for free lunch have ended but you can still come for all or part of the day. RSVP not required for attendance. This is a free event. Donations welcome.
Rediscover Douglass: A Frederick Douglass Bicentennial Event will explore and preserve lessons learned from the life and legacy of Douglass' legacy. God, Family and Education are foundational to building strong men.
A FREE Lunch is included with the day for those who RSVP.
A love offering is welcome
Questions? Call: 585-880-7580 or 585-615-9551 - events@fdfny.org/president@fdfny.org/ chaplainakreutz@gmail.com
Rochester welcomes the honorable Rev. Dean Nelson to Rochester, NY. He is one the nation's leading Frederick Douglass activists and the Federal Frederick Douglass Bicentennial Commissioner. The Commission to celebrate the bicentennial of Frederick Douglass' birth is only the 16th commemorative commission created by Congress since 1989, only the sixth that commemorated a specific individual, and the first to commemorate an African American. In other words, this is big. BIG!
Ken Morris, Jr. is the great-great-great grandson of Frederick Douglass and the great- great-grandson of Booker T. Washington. He had these words of blessing to offer for Rev. Dean Nelson's efforts in Rochester:
"I am honored to support my friend and fellow Frederick Douglass Bicentennial Commission member, Rev. Dean Nelson. Pastor Dean has worked hard to advance the causes of opportunity and freedom as head of Douglass Leadership Institute. As you mark the 200th anniversary of the birth of my great ancestor, Frederick Douglass, I hope you take pride in knowing that you stand on the shoulders of countless heroes and heroines in the struggle for freedom and equality. I encourage everyone to support and attend the Douglass Bicentennial celebration. On behalf of the Douglass family, I wish you the best for a memorable and successful event. "
Memorials in honor of Fredrick Douglass are found throughout Rochester, including murals, statues and even a bridge named after him and his friend Susan B Anthony. Let us explore the life and legacy of Douglass, as we bring together scholars, church leaders, pastors, members of the public, activists, educators, civil servants, professionals, entrepreneurs and students of all ages—to preserve his legacy and to learn how to apply these lessons and solutions of his legacy to the crises affecting our communities today. Through a unique educational and informational forum, we are engaging and empowering people of faith, we are encouraging solutions to engrain the importance of education, with hopes of strengthening our community and inspiring one another to do and be more. We hope the story of Frederick Douglass will inspire people to take positions of leadership in urban communities.
Dean Nelson, along with many locals, will be running Breakout sessions and Training Seminars throughout the Day. We will also have a guest apperance from Dr. D. Anderson, who is also a commissioner on the Bi-Centennial Commission.

The others include:
Pastor Mike Peace
Pastor John Walker
Jim Havens
Pastor Jose Rodriguez
Pastor Mark DuPré
Dr. Peter Burch
Pastor Mike Warren

And Others……..
This Sponsored Program is Free and open to the public. - Donations Welcome

Integrity…Justice…Virtue…Respect…Honor…Responsibility…Success…Hard work…People of Faith… Leadership
10:30 am is Registration and Networking:




11:15 am is when the Program begins: John Walker, Mark

DuPré

,

Bob Babcock, Jose Rodriguez




Key Note From Dean Nelson
12:30 pm - Working Lunch Break out sessions/ seminars - you can choose one: Human Life, Politics & Activism, Education and Success, Politics, Strengthening the family, Law enforcement, community relations, and Civil Rights,
2:15 pm Q & A with Panel / Audience discussions and wrap up

3:00 Closing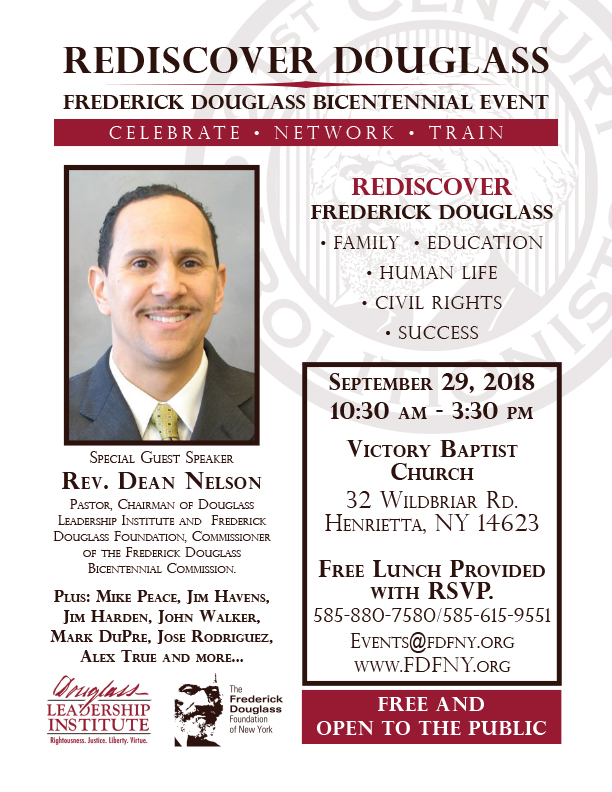 This program is to honor Frederick Douglass, who was born into slavery on the Eastern Shore of America in 1818. After escaping slavery, Douglass became an ordained minister, a renowned abolitionist, an orator, an author, a diplomat, a leader in the woman's suffrage movement, an adviser to 4 Presidents, including Abraham Lincoln, and more. Douglass is no doubt one of the most impactful African-Americans of the nineteenth century and one of the greatest historical figures and orators of all time.

Douglass said, "What is possible for me is possible for you." By taking the keys to success and making them his own, Frederick Douglass created a life of honor, respect and success.


Join us Sept 29th, 2018
Questions? Call Peter at 585-880-7580 or Ayesha at 585-615-9551 - events@fdfny.org, president@fdfny.org/ - chaplainakreutz@gmail.com
The Day is split up into Multiple "Events." Come for some or all of the day. RSVP is ONLY required to receive the Free Lunch offered.