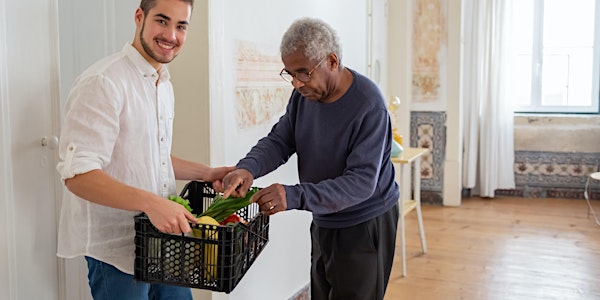 Redesigning day, employment, and living situations (IDD and Dementia)
Redesigning day, employment and living situations for persons with intellectual and developmental disabilities and dementia webinar training
About this event
Join us as Dr. Philip McCallion delivers a virtual webinar training for Redesigning day, employment and living situations for persons with intellectual and developmental disabilities and dementia for first line managers and administrators.
Free Social Work, Counselor, and DODD Certification Credits are being offered through Lucas County Board of Developmental Disabilities.
The Lucas County Board of Developmental Disabilities (Board) is an approved provider through the State of Ohio Counseling and Social Worker Board and the Department of Developmental Disabilities. This program meets board and state guidelines and can be used by licensees toward their license renewal requirements. Certification will be authorized only for those who complete provided evaluation tools and meet attendance requirements. Social Work Provider #RSX-069303; Counselor Approved Provider #RCS-9980.
Register today, space is limited.
Presenter
Biography
Dr. McCallion's research interests fill an important niche in the field of social work, bridging scholarship on aging populations and those with intellectual disabilities such as Down syndrome. He is co-principal investigator of the Intellectual Disability Supplement to the Irish Longitudinal Study on Aging, a visiting professor at Trinity College Dublin, a John A. Hartford Foundation Social Work Faculty Scholar and Mentor, and a member of the steering committee of the National Task Group on Intellectual Disabilities and Dementia.
A renowned researcher, since 1996 McCallion has received more than $30 million in research funding and published more than 140 articles on interventions with older adults with chronic conditions, caregivers of frail elderly, persons with Alzheimer's disease, and persons with intellectual or developmental disabilities. As a mentor to junior researchers he has served on 23 doctoral student committees, of which he has chaired 14, and supervised 40 doctoral and master's projects.
McCallion's research began with randomized control trials of psychosocial interventions for people with dementia and their caregivers. His interests have extended to creating aging-prepared communities; evaluating non-pharmacological interventions; increasing the reach of palliative care programs; and developing community-oriented projects to assist aging persons with intellectual disabilities. Within his work McCallion emphasizes evidence-based interventions, collaboration with state and local agencies, and community capacity-building.
This project was supported, in part by grant number 90ADPI0008-01-00, 90ADPI0045-01-11, from the U.S. Administration for Community Living, Department of Health and Human Services, Washington, D.C. 20201.