Description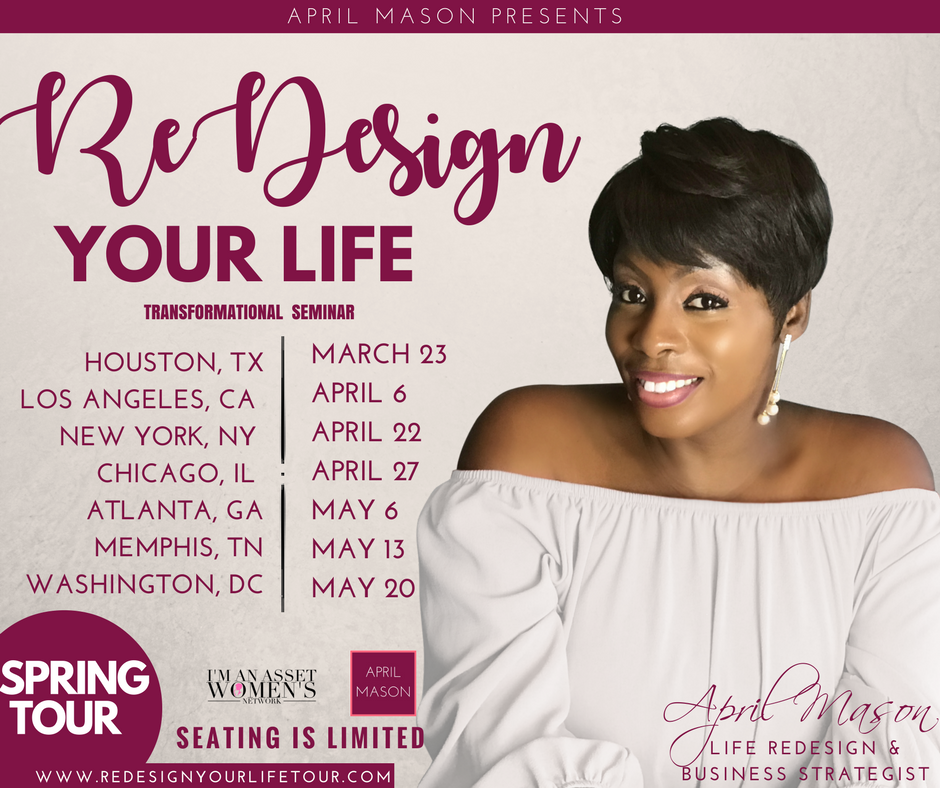 Does this sound like you?
I'm tired of going through the same yearly cycles of financial lack, loneliness, frustration, feeling unfulfilled, lost, unwanted and not enough.
I'm tired of taking what I'm given, or what "they say" I merely qualify for.

Everyday, I live my life like I'm a robot with the same daily routine. I constantly think to myself, "there has to be more to life than this."

I feel like a hamster going around in circles day after day, month after month and year after year, and accomplishing nothing.
If you're tired of living a subpar life, however, your not sure how to change that, if you have this nagging pull in your soul that there has to be more to life than this; you can't afford to miss this event.

JOIN ME IN A CITY NEAR YOU!
Hello, my name is April Mason, and I'm a Life ReDesign & Business Strategist, author, speaker, and entrepreneur. If you answered yes to any of the questions above, I also found myself in the same place as you. It wasn't until I took a step back, made a choice to redesign my life and went after what I wanted.
Are you ready to ReDesign your life? Awesome! This means that you are ready and willing to throw away the bottle of playing small and mediocre that you've been drinking! No more confusion, excitement one minute and doubt the next, thinking yourself out of greatness, unhappiness, self-doubt, hiding who you really are, living in lack, broke, unhealthy and just living a BLAH life! NO MORE!
If you're ready to take massive leaps and shave years of confusion, frustration, and lack off of your life, you've come to the right place!

I am prepared and qualified to help you get RESULTS! You'll learn:
Rewrite the script of your life
Develop supportive and loving relationships
How to operate from a feminine place in every area of your life
Learn how to forgive yourself and others the correct way
Learn how to operate from a place of wisdom
Gain clarity about what you want and need in your life
How to trust yourself and the decisions that you make
Learn how to kill procrastination and fear
How to bring your business ideas to life and create wealth
How to know the difference between intuition and fear
How to understand why self- sabotage is keeping you in bondage
Getting the tools, you need to set healthy boundaries in your life and business.
…and so much more

I'm looking forward to meeting you and taking the journey with you. The investment is only $97, and space is extremely limited. Make a commitment to yourself, and secure your seat today.