Description
The Textile Museum of Canada presents:
BMO Financial Group
reDesign 2012
Join us for a fantastic evening in support of the Textile Museum of Canada as artists, designers and architects re-imagine 40-Eames-style chairs to be sold at auction. Enjoy delicious food prepared by Toronto chef Michael Tong, complimentary cocktails and an opportunity to bid on extraordinary objects of art and design.
http://www.textilemuseum.ca/microsites/reDesign2012/About.html
Featuring:
Lizz Aston
Bruno Billio
bookhou
Brothers and Sons
Castor
Joy Charbonneau
Farley Chatto
Johnson Chou
Comrags
Creative Matters Inc.
Rob Diemert
David Dixon
Stephanie Fortin
Fugitive Glue
Barr Gilmore
Charlene Gilmour
Grant Gilmour
Hariri Pontarini Architects
Grant Heaps
Adam Herst
Thrush Holmes
Jeremy Laing
Levitt Goodman Architects with Hot Pop Factory
Dennis Lin
MADE
Graeme Marrs
Amanda McCavour
Derek McLeod
MORBA
Tina Morgan
Camal Pirbhai
Meghan Price
Joel Robson
Patricia Roy
Kathryn Walter
Kevin Weiss
Gareth Wilson
Pam Woodward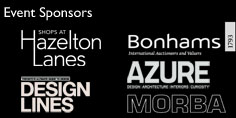 Organizer of reDesign 2012

The Textile Museum is one of Canada's most engaging visual arts organizations. Dedicated to expanding knowledge, creativity and awareness, the TMC is a non-profit cultural institution that consistently brings historical practices to bear on contemporary lives. A rich international repository of more than 13000 textile artifacts, archaeological to contemporary, the Museum is one of the institutions best positioned to address the nuances of cultures and identities in a global context.