Actions and Detail Panel
Redefining Success: Finding Your Purpose and Owning Your Story
Tue, January 5, 2016, 6:00 PM – 9:30 PM PST
Description
In the information age, we are bombarded with ideas about what success is supposed to look like, but maybe success for us is different than we think. Perhaps you actually want to work from abroad, become an origami expert, lead a revolution, or even take up dog walking.
In this interactive and interdisciplinary class, we will look at the metrics we traditionally use to define what we want in our jobs and in our lives. We will talk about money, status, and what success really looks like. We will talk about dream jobs and dream lives, and what that means for us.
We will look at the history and cultural meaning of success, drawing on concepts from philosophy and psychology to business and history, literature and neuroscience to mindfulness and art, sociology, and political thought. We will dive into what success might mean for you, and what gets in the way. We will flesh out what success is supposed to look like, what it really looks like, and what we want for ourselves. We will finish with actionable steps and realistic, practical tools for making this happen in your life.
Takeaways:
What success really means and why it motivates us

Why we fear failure and how to move beyond that

How to define success for yourself and what that might look like

Actionable steps, tips, and projects to define your own success, materialize it, and live it
Agenda:
6:00 - 6:30pm: Cocktail Half-hour
6:30- 9:30: Redefining Success

Skill Level:
-All
Requirements:
-Just your wonderful self
Your Instructor: Flynn Coleman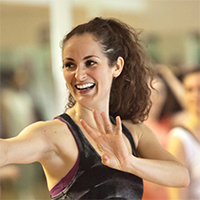 Flynn Coleman is an international human rights attorney, a mindfulness and creativity teacher, an author, a TEDx speaker, a Huffington Post writer, a former competitive athlete, a social entrepreneur and innovator, and a founder and CEO. She has a background in innovative approaches to economic empowerment and economic development, behavioral economics, international trade, war crimes, political reconciliation, humanitarian law, and improving access to justice through innovation. She holds a BSFS from Georgetown University, a JD from UC Berkeley School of Law, and an LLM from the London School of Economics and Political Science.
Learn more: flynncoleman.community