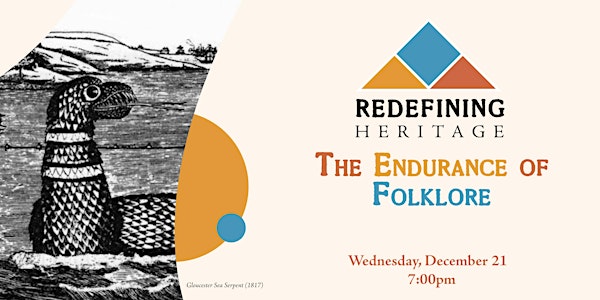 Redefining Heritage: The Endurance of Folklore
Join us to learn how the power of story helps us learn about history and feel more comfortable in the world around us.
Refund Policy
Contact the organizer to request a refund.
About this event
Human beings have always sought to understand the chaos of the world through myth and folklore. Join us on Wednesday, December 21st for a free virtual lecture and open discussion to explore why residents of Essex County use the powerful tool of communal storytelling to explain the unexplainable and understand the unknowable. Lauren McCormack, Executive Director of the Marblehead Museum, will discuss how the robed Wizard Dimond used "magic" to calm stormy seas and bring sailors safely home - and why his neighbors embraced these skills instead of reacting with mass hysteria and hangings, such as was seen in Salem merely 20 years before. Miranda Aisling, Head of Education & Engagement for the Cape Ann Museum, will relate why old tales of a mysterious sea serpent off the shores of Gloucester have been integrated into modern renovations of the museum. Come join us in exploring how the power of story helps us learn about the history of the Heritage Area and feel more comfortable in the world around us.
Redefining Heritage is an ongoing discussion series presented by Essex Heritage. This program invites audiences to participate in a conversation about the natural, cultural, and historic resources of the Essex National Heritage Area. Heritage professionals, regional advocates, businesspeople, and other experts present new perspectives on topics that are often overlooked or seen as unchanging. Experts engage with the audience in thinking about how they can be more actively involved in areas of heritage such as conservation, arts advocacy, expanded historical awareness, and other themes relevant to a more inclusive and engaged community. In our evolving and diverse world, it is especially important for all of us to understand important issues from a variety of angles to be more informed citizens.