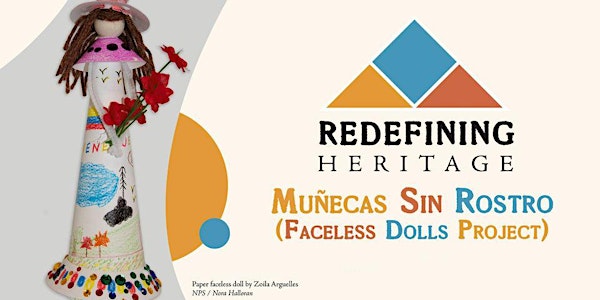 Redefining Heritage: Muñecas Sin Rostro (Faceless Dolls Project)
Join the Punto Urban Arts Museum and National Park Service to learn more about this creative and educational initiative.
About this event
Kick off the 2022 Redefining Heritage series with a discussion about the Muñecas sin Rostro (Faceless Dolls Project). This project is a creative and educational arts initiative started by the Punto Urban Art Museum (PUAM), a program of North Shore Community Development Coalition (NSCDC). Inspired by the traditional Muñecas sin Rostro made by Liliana Mera Limé, an artist and pottery worker from the town of Moca in the Dominican Republic, the project invites individuals to combine creativity and narrative through the creation of a unique paper doll in a few basic steps. As a celebration of heritage, these stories will represent and help preserve the diverse identities that reside in El Punto.
Since Spring of 2021, the PUAM and Salem Maritime ran a series of workshops both virtually and in-person at NSCDC's community space, Espacio in el Punto. Each workshop involves three components: storytelling, designing, and building. The storytelling portion allows participants to answer prompts about their own heritage and how they perceive elements of their heritage through their senses and memories. Participants translate these stories into drawings, stamps, words, and more that they design onto the paper doll template. Lastly, everyone builds their doll into its proud, three-dimensional form, finishing with the iconic faceless head.
NSCDC's goal is to grow the Faceless Dolls Project over time as a way to consistently gather, celebrate, and honor community stories through mindfulness and craft. It serves as a way for neighbors and friends to get to know each other better.
The National Park Service at Salem Maritime National Historic Site partnered with NSCDC to co-create an exhibit featuring dolls and stories by residents of El Punto (Salem's Point neighborhood). The exhibit celebrates Salem's global community, Caribbean connections, and Latino stories.
Join Yinette Guzman, Design & Placemaking Project Manager for the NSCDC, and Nora Halloran, Education Park Ranger for the National Park Service at Salem Maritime and Saugus Ironworks National Historic Sites to learn more about this ongoing initiative, explore the intersections of art and history, and how the use of art can help us tell continuing stories of culture, from past to present.
Following the presentation, there will be a moderated Q&A. Live captions are available during this presentation.
About the speakers:
Nora Halloran, Education Park Ranger at Salem Maritime and Saugus Iron Works National Historic Sites. Nora joined the education team at Salem Maritime in 2018. Her primary focus is interpretation and education on the history of slavery in Essex County. Originally from California, Nora has worked in National Parks across the country for 10 years. Prior to arriving in Massachusetts, she worked in Everglades National Park in Florida.
Yinette Guzman is a designer, multidisciplinary artist, and advocate who is passionate about community engagement. At North Shore CDC, Yinette spearheads the Punto Urban Art Museum (PUAM), where she curates and manages new and existing murals. Yinette's goal with PUAM is to build a deeply connected art museum that not only represents the community but is also community made. In the future, Yinette's focus is to bring more Immersive (special exhibits) works to PUAM to narrate the stories of the residents of the Point in Salem, and expand from murals to sculptures. Yinette worked developing 3Dimensional architectural models for Architect Moshe Safdie practice in Somerville MA for over 10 years. At the firm, Yinette led the digital computing tools for the model making team. As an immigrant of the Dominican Republic, Yinette believes in giving back to the community through mission work, collaborating with local partners and leading local church groups. In terms of her personal interest, she invests her free time in exploring her creative ideas by making art, which comes in different mediums, 3D sculptures, acrylic paintings and digital drawings that get laser cut. She holds a BFA in Architecture from Massachusetts College of Art & Design.
Redefining Heritage is an ongoing discussion series presented by Essex Heritage. This program invites audiences to participate in a conversation about the natural, cultural, and historic resources of the Essex National Heritage Area. Heritage professionals, regional advocates, businesspeople, and other experts present new perspectives on topics that are often overlooked or seen as unchanging. Experts engage with the audience in thinking about how they can be more actively involved in areas of heritage such as conservation, arts advocacy, expanded historical awareness, and other themes relevant to a more inclusive and engaged community. In our evolving and diverse world, it is especially important for all of us to understand important issues from a variety of angles to be more informed citizens.