Join four Essex County agriculture experts to learn about the history of sustainable growing and the future of healthy soils.
About this event
Essex County has a long history of agriculture, with some of the oldest working farms in the country still operating today. There is also a deep-rooted tradition of individual and community gardening that has seen a rise in interest during the social isolation of the current pandemic. Creating healthy soils and sustainable landscapes not only for large, established farms, but for backyard gardeners is essential, and something that the speakers in this session will focus on. Join Jennifer Core, Director of Agriculture for The Trustees, Andrew Brousseau, Partner and Compost Manager for Black Earth Compost, Lara Lepionka, Founder and Executive Director of Backyard Growers, and Eunice "Nicie" Panetta with Mothers Out Front to learn the history of farming in Essex County, the science of soil, and how those interested in starting their own sustainable garden can begin. Also, learn about Mothers Out Front's SoilCycle! campaign to increase participation in composting and gardening in Essex County.
Following the presentation, there will be a moderated Q&A. Live captions are available during this presentation.
About the speakers:
Jennifer Core, Director of Agriculture for The Trustees is responsible for implementing the agriculture vision across farm properties, while identifying meaningful engagement opportunities with our working farms, food and agriculture related issues. Jennifer has nearly two decades of experience with farming and farm education. As a farmer, Jennifer is the owner-operator of Hettie Belle Farm in Warwick, MA. She founded Hettie Belle in 2009 with her husband and has thoughtfully scaled the business while consistently modeling the best in livestock care. Between 2003 and 2011 She served as the Program Director at The Farm School overseeing curriculum development, staff management, and the delivery of a yearlong adult education program to train, position and launch new farmers to start their own farms. More recently Jennifer served as the Associate Dean of Students for The School for International Training from 2011-2020.
Andrew Brousseau is Partner and Compost Manager for Black Earth Compost. After achieving a BS at UMass Amherst, Andrew moved out west to ski and follow up on his recent studies. While living in the mountains, he worked as a software developer and as an oceanographer for the University of East Anglia, going on seven research cruises to the Southern Ocean and the Atlantic. However, he yearned to study nutrient recycling so returned to land to get an MS in the topic. He then dropped out of academia to join Conor on his endeavor, just as the state of Massachusetts became the first in the nation to implement a ban on food waste going to landfills and incinerators.
Black Earth Compost collects food scraps weekly from home owners, schools, cafeterias and restaurants. They compost the food scraps into a rich soil amendment, and sell the compost or blend it with soil they special source to make a tested, safe growing media. Black Earth also sells raised beds and watering kits to promote growing of food at home.
Lara Lepionka is the Founder and Executive Director of Backyard Growers. Faced with the 2008 recession, Lara Lepionka and her family needed to find ways to stretch their household budget as well as to take back some hope and agency during a difficult time. They tore out their postage stamp lawn, became self-taught micro urban farmers, and started growing their own food in the heart of downtown Gloucester, MA. In 2010 Lara helped a handful of her neighbors start their own vegetable gardens, and Backyard Growers was born. Her ultimate goal: creating life-long gardeners inspired by the power of growing one's own food.
Eleven years later, Backyard Growers has grown to include hundreds of low- to moderate-income Gloucester households growing their own food in backyard and community gardens, gardens with partner service organizations such as food pantries and homeless shelters to provide fresh food for their clients, a district-wide school garden program in the Gloucester public schools, and an award winning school garden program that has been replicated in numerous Massachusetts school districts.
Prior to Backyard Growers, Lara worked for over 25 years in a variety of non-profit leadership roles at organizations in Massachusetts, Chicago, and New York City with a focus on the arts, education, and food justice. She is trained as a community-based artist, having received her MFA from The School of the Art Institute of Chicago—training that has inspired her to transform her community into a network of gardens brimming with creativity, community, and of course, vegetables.
Eunice "Nicie" Panetta is founder of Bird on the Wing Media and the author of Frugal Chariot, the weekly newsletter that curates exceptional books about nature, climate, journey and place. Previously, she produced The MidPod, a podcast about the 2018 congressional midterm elections. Nicie serves on the boards of the Trustees of Reservations and the Financial Services Volunteer Corps, and is an active volunteer with Mothers Out Front. She and her husband live on the North Shore and are very grateful for its history, natural beauty and sense of community.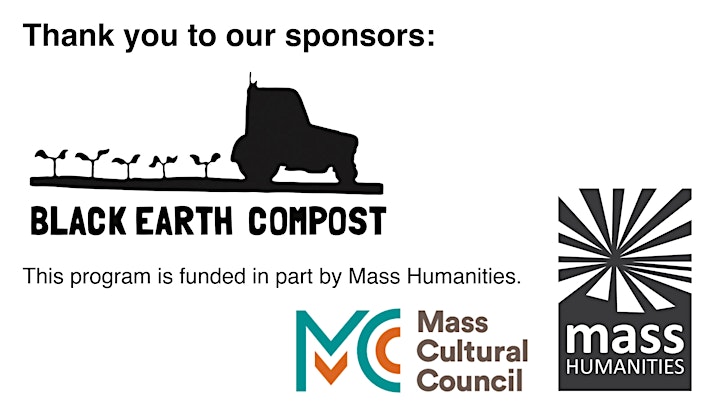 Organizer of Redefining Heritage: Garbage to Gardens
The Essex National Heritage Area, established by an act of the U.S. Congress in 1996, covers the 500 square mile region north of Boston (Essex County) and encompasses thousands of historic, cultural and natural places that were crucial in shaping our nation's heritage.  
The Essex National Heritage Commission (Essex Heritage) is the nonprofit management organization for the Area and rallies our community around saving its unique character.  We are the only organization that connects the people who live in the 34 cities and towns within our county!  We do this to achieve our mission "to preserve and enhance the historic, cultural and natural resources of Essex County."