Description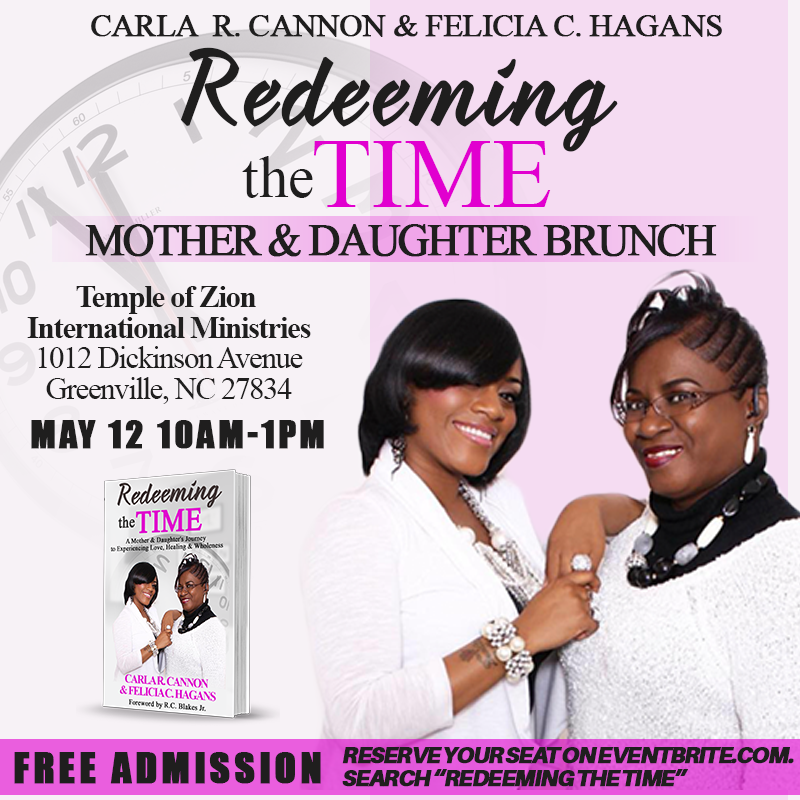 Carla R. Cannon presents Redeeming the Time Mother & Daughter Brunch hosted alongside her mother, Felicia Coward Hagans as they share their journey of experiencing love, healing and wholeness!
This live event is dedicated to mothers and daughters worldwide who have undergone various challenges of understanding one another, extending forgiveness, learning effective communication and more.
During this live event this dynamic duo will be sharing their story for the first time together and in front of a live audience! Redeeming the Time captures their journey which has never been shared before except now! Their story sends a message to every mother and daugher (or any relationshp) that nothing is beyond repair when you incorporate prayer, commit to honesty and own your part.
Meet this mother and daughter duo as they grace the stage on Saturday, May 12, 2018 at 10AM-1PM for their live event and book signing! This epic story has been endorsed via the writing of the foreword by Dr. R.C. Blakes (New Orleans, Louisiana), the spiritual father of Carla R. Cannon.
Seats are first come first served and will begin promptly at 10AM! Be sure to show up on time to claim your seat and bring your mom or girlfriend who could benefit from this mother and daughter's authentic yet challenging journey and how they stand today as best friends.
---
Redeeming the Time Mother& Daughter Brunch Tentative Itinerary:
10AM- 10:10AM……………………………………….Official Greeting/Welcome
10:10AM-10:15AM……………………………………… Prayer/Blessing of Event
10:15AM-10:20AM………………………………………….. Purpose of Gathering
10:20AM-10:25AM………..………………………. Introduction of Special Guests
10:25AM-11:25AM "Our Journey"……..…..Felicia C. Hagans & Carla R. Cannon
11:25AM-12:00PM…….…………………………………………..…Lunch Served/Networking
12:00PM- 12:30PM…………………………………………………………..Q&A
12:30PM-1PM….……………………………………………………Book Signing
Books will be available for purchase for $20! This exclusive event will conclude with their book signing in which you will have the opportunity to speak with and snap photos with this dynamic mother/daughter duo!