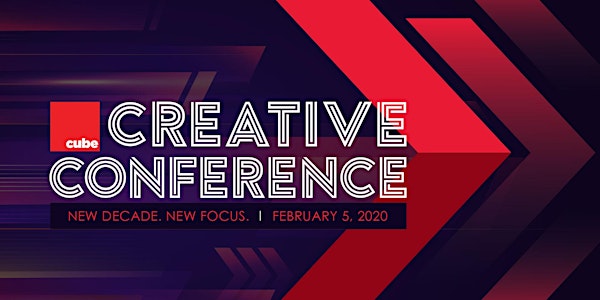 RedCube Creative Conference: New Decade.New Focus
When and where
Date and time
Wednesday, February 5, 2020 · 8am - 2pm EST
Location
City Station 2115 Maple Street Carrollton, GA 30117
Description
Join us on February 5th, 2020 for the RedCube Creative Conference: New Decade. New Focus. This conference is for aspiring and established business owners, entrepreneurs, marketers, consultants, etc. For more information, please visit redcubeconference.com.
This is an amazing opportunity for you hear from local industry professionals and for them to provide their advice, tips, counseling, and latest strategies in marketing, branding, productivity, etc. You will also have a chance to hear from our Keynote Speaker, Kenn Kington, Comedian & Speaker.
WHY ATTEND?
Network with local and regional established or aspiring business leaders

Attend business workshops & seminars to help your business grow

Learn about new cutting-edge products and services

Establish new & valuable contacts

Interact with the movers and shakers of your industry
DETAILS + COST TO ATTEND:
This conference is FREE to attend. We ask that you register to reserve your spot as soon as possible. We will be following up with more details and breakout session information soon. Below is a tentative itinerary for the day:
8:00-8:30- Doors Open/ Networking
8:30-9:00- RedCube Intro
9:00-9:30-Kick-Off/ Ice-breakers/Info/Speakers
9:30-10:00- Keynote Speaker: Kenn Kington
10:15-11:00- Breakout Session #1
11:00-11:45- Lunch and Interview Discussion
12:00-12:45- Breakout Session #2
1:00-1:45- Q&A (Games/Takeaways)
1:45-2:00- Vendors
REQUEST A SPONSOR PACKAGE:
If you are interested in being a sponsor of the program, please let us know! For more information on sponsorship, please email mariahcaitlinevents@gmail.com.
Please use the link below to sign up for lunch:
https://redcube2020lunchorder.square.site/s/shop