Red Wing Roots Music Festival Presents Jon Stickley Trio w/Presley Barker
About this Event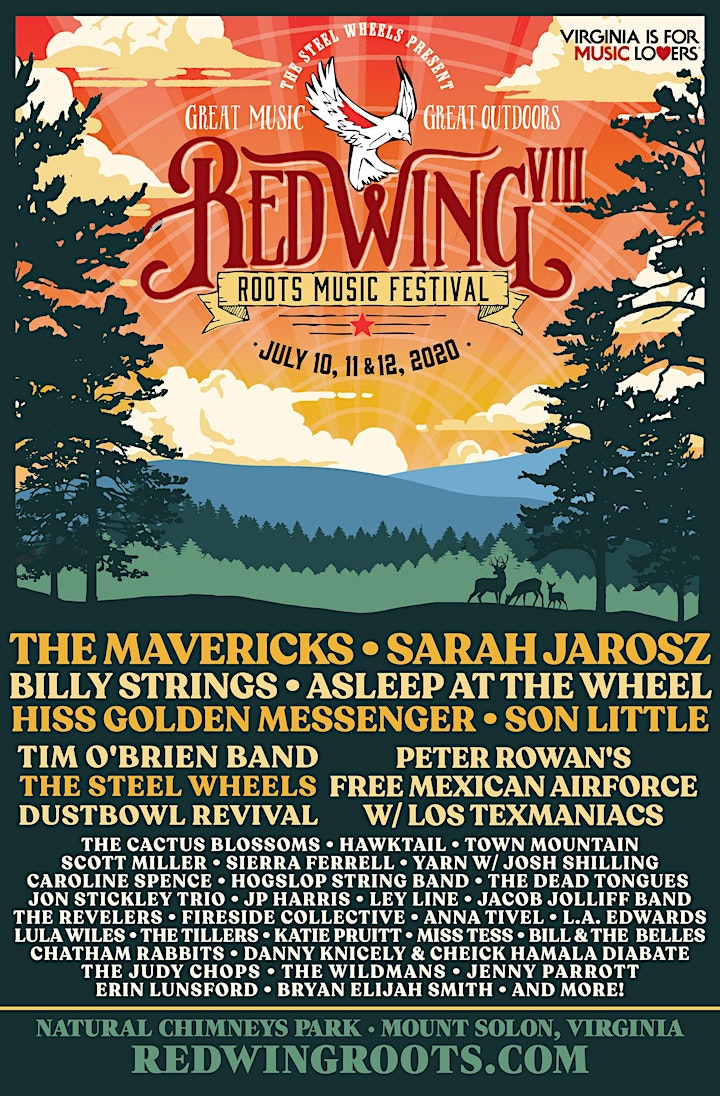 all ages show $12 advance/$15 door
We are thrilled to partner with "Red Wing Roots Music Festival 2020" in presenting the Jon Stickley Trio, and special guest Presley Barker!
The Steel Wheels present the eighth annual Red Wing Roots Music Festival on July 10, 11 & 12, 2020, brought to you by Blue Mountain Brewery and WNRN.
Three days, four stages and 40+ bands at the beautiful Natural Chimneys Park and Campground in Mt Solon, VA, in the heart of the Shenandoah Valley.
This year's lineup includes The Mavericks, Sarah Jarosz, Billy Strings, Asleep At the Wheel, Hiss Golden Messenger, Son Little, Tim O'Brien Band, Peter Rowan's Free Mexican Airforce w/ Los Texmaniacs, The Steel Wheels, Dustbowl Revival, The Cactus Blossoms, Hawktail, Town Mountain, Scott Miller, Sierra Ferrell, Yarn w/ Josh Shilling, Caroline Spence, Hogslop String Band, The Dead Tongues, Jon Stickley Trio, JP Harris, Ley Line, Jacob Jolliff Band, The Revelers, Fireside Collective, Anna Tivel, L.A. Edwards, Lula Wiles, The Tillers, Katie Pruitt, Miss Tess, Bill and the Belles, Chatham Rabbits, Danny Knicely & Cheick Hamala Diabate, The Judy Chops, The Wildmans, Jenny Parrott, Erin Lunsford and Bryan Elijah Smith.
The towering limestone chimneys, reaching more than 120' in the air, provide a spectacular backdrop for you to lounge in the Music Meadow and hear some great music in the great outdoors.
Red Wing focuses on the whole experience: an incredible variety of food, craft vendors, kids activities, camping, swimming, organized bike rides, fun runs and hiking adventures, and much, much more!
More info? www.redwingroots.com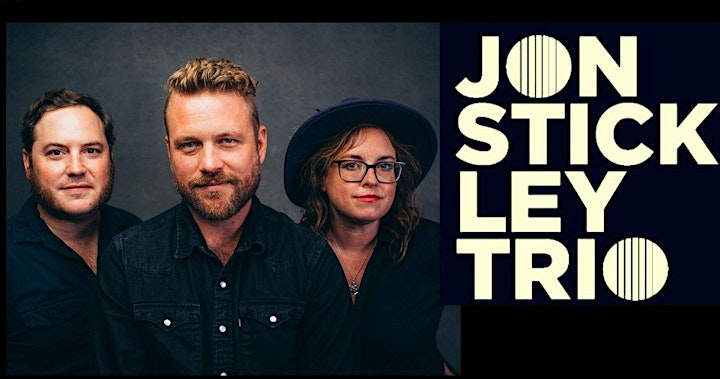 Jon Stickley Trio is a genre-defying and cinematic instrumental trio, who's deep grooves, innovative flatpicking, and sultry-spacy violin moves the listener's head, heart, and feet. "It's not your father's acoustic-guitar music—although Stickley's pop showed him his first chords when he was 12 years old. Instead, Stickley's Martin churns out a mixture of bluegrass, Chuck Berry, metal, prog, grunge, and assorted other genres—all thoroughly integrated into a personal style," writes Guitar Player Magazine.
Premier Guitar says, "Stickley's trio… is not a traditional bluegrass group by any means… they are just nimble and ambitious enough to navigate EDM-style breakbeats as effortlessly as the old timey standard 'Blackberry Blossom.'"
"Stickley is a super-resourceful acoustic guitarist who uses the instrument in many surprising ways and whose timing is just flawless. Fiddler Lyndsay Pruett puts deep thought into her flowing solos, plus she adds little flourishes and sudden stops that elevate the music," proclaims Nashville's Music City Roots' Craig Havighurst.
Jon Stickley Trio announces a change in lineup beginning in January 2018 with new drummer, Hunter Deacon, who is both classically trained and boasts heavy jazz influences. Hailing from the ever-hip Knoxville, Tennessee, Hunter studied with drummer Keith Brown and received a BM in Studio Music and Jazz from the University of Tennessee. Deacon then went on to complete a six month residency at a jazz club in Hangzhou, China where he performed seven nights a week. Since his return, he's played with Scott Miller and the Commonwealth, toured the country with Sam Lewis, and performs with guitarist Mike Baggetta.
Stickley says about the seemingly sudden lineup change, "we're really excited to add Hunter's vibe to the mix, his creativity and willingness to experiment were two things that drew us to him, and Lyndsay and I were quickly surprised and inspired by what he'll bring to the table."
With inspiration ranging from from Green Day to Duran Duran to Tony Rice to Nirvana, Grateful Dead, David Grisman and beyond, the Trio is making waves with their unique sound. Along with releasing two full length albums and one EP in the past few years, the Trio has zig-zagged the nation, playing over 120 dates in 2017 alone. They are road tested and band geek approved!
Dave King (of The Bad Plus) joined forces with Jon Stickley Trio to produce 2017's Maybe Believe and 2015's Lost At Last (which The New York Times called "both respectful and free") in the band's hometown of Asheville, NC at the esteemed Echo Mountain Recording Studio. The Trio slipped a self-produced 5-track EP, Triangular, into the mix in December of 2016.
"In a time when a lot of instrumental music feels more like math than art, Jon Stickley Trio reminds us of the pure joy that can be created and shared through music," says Greensky Bluegrass' Anders Beck.
Stickley says, "The Trio feels fresher and hotter than ever, we've hit our stride in terms of creating tunes that are uniquely us and that's a really exciting place to be musically. Not to mention we are so stoked to get back to many of our favorite festivals and clubs, and even more excited to play some the ones we've always dreamed of. 2018 will, without a doubt, be our best year yet!"
Jon Stickley is known for his rapid-fire flatpicking, and his ability to blend different musical elements from across the board to create a sound that is all his own. Based in Asheville, North Carolina, this Durham native has been in various bands throughout the years, including Colorado's legendary Broke Mountain, and several Asheville based bands. The Jon Stickley Trio has become his primary focus, and the vessel through which he presents his original music.
"Stickley's powerful flatpicking gathers influences from the greats such as Tony Rice, but also allows for other, more modern, sounds to creep in. 'Darth Radar' is a rapid-fire take that moves from a serious ska beat to burning surf-style runs that would make Dick Dale proud." –Premier Guitar, Jason Shadrick
Lyndsay Pruett is an extremely diverse fiddle player currently residing in Asheville, NC. Her daily life is a constant toss up of genres. As a member of the Jon Stickley trio, she gets to employ just about all of them, including bluegrass, swing, classical, Latin styles, country, and hip hop. Lyndsay got a BM in Commercial Violin Performance from Belmont University in Nashville, TN. Stylistically, she manages to compliment others' music and add striking color to it through her improvisations and textural playing.
"Lyndsay Pruett is the violinist for the Jon Stickley Trio. She is also one of the best fiddlers you are likely to meet equally adept at jazz, classical, bluegrass, newgrass, rock, dub step, or just about anything else. Born into a musical family, Lyndsay has carried her musical roots well" –Perfect Note Podcast
Hunter Deacon grew up in Memphis, TN where he studied and played classical percussion and drum set. After moving around for several years, he landed in Knoxville, TN where he studied with drummer Keith Brown and went on to receive a BM in Studio Music and Jazz from the University on TN. In 2013 he moved to Hangzhou, China where he had a 6 month residency at a jazz club performing 7 nights a week. Since his return, he has played with Scott Miller and the Commonwealth, toured the country with Sam Lewis, and performs regularly with guitarist Mike Baggetta.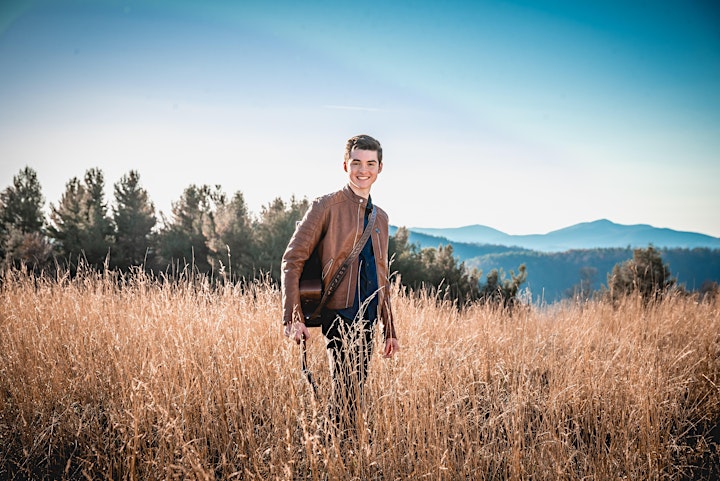 Presley Barker has been singing and playing acoustic guitar for eight years. Living in the NC mountains and listening to Doc Watson on the radio inspired Presley to begin playing music. He has appeared on the NBC Today Show with Al Roker. He has played the National Folk Festival, Richmond Folk Festival, Lowell Folk Festival, Montana Folk Festival, Masters of Steel String Guitar Event in Washington, D.C., PBS Song of the Mountains Show, David Holt's State of Music, Blue Ridge Music Center, Houstonfest, and Merlefest. Presley also appeared on NBC's "Little Big Shots" with Steve Harvey and "Wonderama" TV show in New York City. Most recently, Presley was invited by Country Music Hall of Fame and Bluegrass Hall of Fame member Ricky Skaggs to play the Grand Ole Opry in Nashville, TN. Presley released his first solo album entitled "JUST-TEN" in the fall of 2015.
Awards
1st place Adult Guitar at the Galax Old Fiddler's Convention in 2015 and 2017. West Virginia State Flatpicking Champion in 2016, 1st Place- Wayne C. Henderson Guitar Competition 2017
Performers
Date and Time
Location
Refund Policy