Event Information
Performers
The Mavericks , Sarah Jarosz , Billy Strings , Asleep at The Wheel
Hiss Golden Messenger , Son Little , Tim O'Brien Band , Peter Rowan's Free Mexican Airforce w/Los Texmaniacs , The Steel Wheels , The Dustbowl Revival , The Cactus Blossoms , Hawktail , Town Mountain , Scott Miller , Sierra Ferrell, Yarn w/Josh Shilling , Caroline Spence , Hogslop String Band , The Dead Tongues , Jon Stickley Trio , JP Harris , Ley Line , Jacob Jolliff Band , The Revelers , Fireside Collective , Anna Tivel , L.A. Edwards , Lula Wiles , The Tillers , Katie Pruitt, Miss Tess , Bill and the Belles , Danny Knicely & Cheick Hamala Diabate , The Judy Chops , The Wildmans , Jenny Parrott, Erin Lunsford & Bryan Elijah Smith
Description
Three days, five stages, and 40+ bands at the beautiful Natural Chimneys Park and Campground in Mt Solon, VA, in the heart of the Shenandoah Valley.
The towering limestone chimneys, reaching more than 120' in the air, provide a spectacular backdrop for you to lounge in the Music Meadow and hear some great music in the great outdoors.
2020 Line Up: The Mavericks, Sarah Jarosz, Billy Strings, Asleep At the Wheel, Hiss Golden Messenger, Son Little, Tim O'Brien Band, Peter Rowan's Free Mexican Airforce w/ Los Texmaniacs, The Steel Wheels, Dustbowl Revival, The Cactus Blossoms, Hawktail, Town Mountain, Scott Miller, Sierra Ferrell, Yarn w/ Josh Shilling, Caroline Spence, Hogslop String Band, The Dead Tongues, Jon Stickley Trio, JP Harris, Ley Line, Jacob Jolliff Band, The Revelers, Fireside Collective, Anna Tivel, L.A. Edwards, Lula Wiles, The Tillers, Katie Pruitt, Miss Tess, Bill and the Belles, Chatham Rabbits, Danny Knicely & Cheick Hamala Diabate, The Judy Chops, The Wildmans, Jenny Parrott, Erin Lunsford and Bryan Elijah Smith
Red Wing focuses on the whole experience: an incredible variety of food, craft vendors, kids activities, camping, swimming, organized bike rides, yoga, runs, hiking adventures, and much, much more!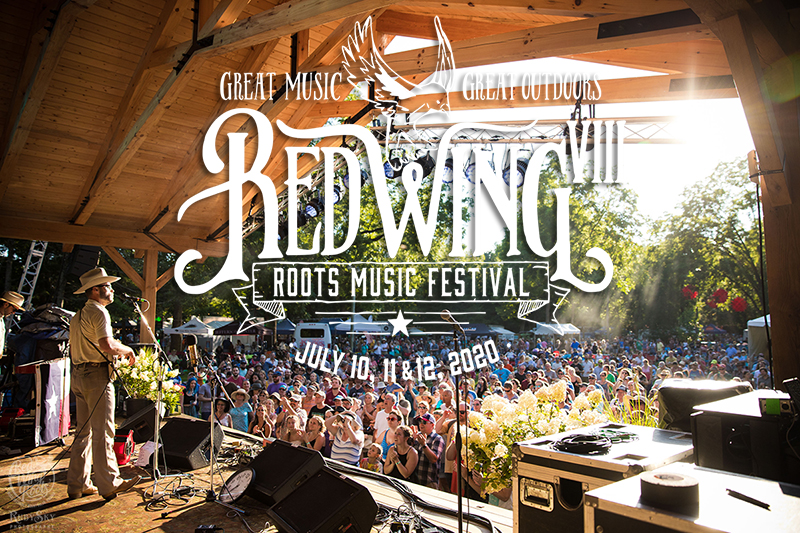 Red Wing has sold out the last two years and has not increased ticket capacity for 2020, so don't wait too long to get your tickets! More info? www.redwingroots.com
All Sales Final - No refunds - Band Lineup Subject to Change
_
Performers
The Mavericks , Sarah Jarosz , Billy Strings , Asleep at The Wheel
Hiss Golden Messenger , Son Little , Tim O'Brien Band , Peter Rowan's Free Mexican Airforce w/Los Texmaniacs , The Steel Wheels , The Dustbowl Revival , The Cactus Blossoms , Hawktail , Town Mountain , Scott Miller , Sierra Ferrell, Yarn w/Josh Shilling , Caroline Spence , Hogslop String Band , The Dead Tongues , Jon Stickley Trio , JP Harris , Ley Line , Jacob Jolliff Band , The Revelers , Fireside Collective , Anna Tivel , L.A. Edwards , Lula Wiles , The Tillers , Katie Pruitt, Miss Tess , Bill and the Belles , Danny Knicely & Cheick Hamala Diabate , The Judy Chops , The Wildmans , Jenny Parrott, Erin Lunsford & Bryan Elijah Smith
Date and Time
Location
Refund Policy