On December 10th, the Chemung County Historical Society is hosting RED, WHITE, BLUES & BREWS: Making Spirits Bright, our online fundraiser
About this Event
Buy a ticket and join us at 5:30 pm December 10th for RED, WHITE, BLUES & BREWS: Making Spirits Bright, our online fundraising event. Buying a ticket supports our mission and outreach and enters you into a raffle to win various gift baskets.
Join us via Facebook Live the night of the event for some online fun as Master of Ceremonies JD Iles announces raffle winners and shares historic fun facts between the amazing Gerard Burke's live sets.
Baskets include a variety of gift certificates, wines, spirits, and bubblies to enjoy. Put your ticket in for one or all of these baskets: (Check back often to see any updates. Baskets with * contain alcohol)
Merry Mint Cocktail* Peppermint schnapps, vodka, candy canes, honey, two holiday tumblers, and drink recipe. Paired with a framed image of a local sweet shop circa 1890s.
Fall Frolic* Four bottles of liquor with a fall harvest twist: Pumpkin Cream Liquor, California Skeletal-a red blend, Adirondack Winery white, and a Kentucky Cider. Also a framed image of frolicking Elmira Students from the early 1900s.
Hermann J. Wiemer* A bottle of Wiemer Winery's best Riesling, a jar of exquisite honey, and a private winery tasting to be arranged to highlight the winery's new ecological initiative. Paired with a framed landscape photo showing the Chemung Valley river.
Polka Dot Fizz* Three excellent Wiemer Winery bottles: Blanc de blanc bubbly, Dry Riesling, and a smooth Red table wine, paired with chocolate pretzels. What more do you need? How about a framed picture of a distinguished gentleman from 1890 sporting a polka dot tie!
Black Velvet basket* A full bar basket with 2 kinds of vermouth, 4 tumblers, Belgian chocolate, Kentucky Bourbon, and a bottle of Black Velvet. (See image below) Also a framed copy from our archives of the Lyceum Cafe around the turn of the century.
Chamber of Secrets* A canvas tote full of wrapped surprises from our Chamber of Commerce. A great choice for those buying local. Inside you'll find wonderful gifts from the Christmas House, and the Soaring Museum, a bottle of local red wine, 4 engraved wine glasses, an oversized cocoa mug, and the latest illustrated map of Chemung County and the Southern Tier. You'll also find a framed copy of 1940s gliders at Harris Hill.
In the Cards: A winning hand of four gift cards! Includes 3 food venues around the Southern Tier,:Pudgie's Pizza (Horseheads), Heidi Ho's Food Truck, Little Boomer's Burrito Bar; and a gift certificate to Chamberlain Acres along with a framed image of the Turner family playing cards in the early 1900s.
Cozy up to the Bar* This basket celebrates the chill in the air as we head into winter. Inside you'll find a 4-pack of Pumpkin Ale from Horseheads Brewing Co., a 4-pack of Common Ale, Kentucky Style, from Upstate Brewing Co., each with their own signature beer glass. There's a face mask, and the softest plush blanket you'll ever find! And you're never alone with a framed print of two beer drinking buddies at the bar dating back to the turn of the 20th century.
Shaken not stirred* Ingredients for Rumchata Vanilla Martinis. Comes with mini vanilla vodkas, caramel syrup, a salted chocolate bar, and gift cards to Grapes & Grains and Elmira Tea and Coffee House. Framed image from the archives features pom pom girls from 1976.
Local Treats Gift cards to support local! Downtown Grind, Turtle Leaf Cafe, and Bit of Grace, along with a year's membership and benefits to the Chemung County Historical Society. We've included a framed image of the Bank Building with this basket.
You will have a chance to purchase additional raffle tickets, and choose the baskets, during the checkout process. Winners are responsible for basket pick up or shipping costs. Must be 21 or over to purchase *baskets.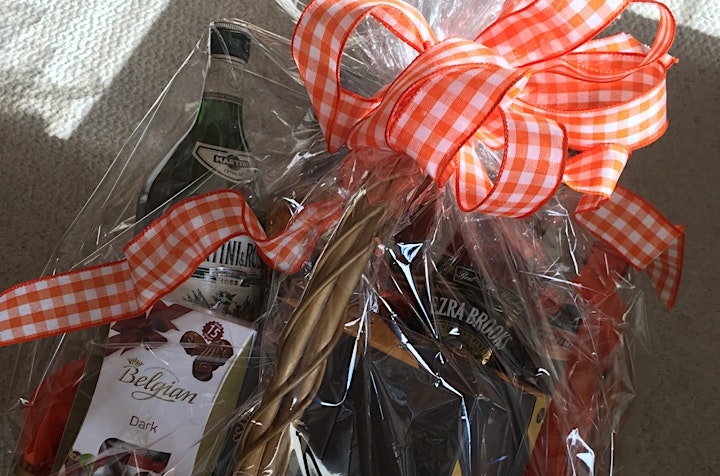 Gift Baskets contain a variety of goodies like this one! Keep checking back. After you have purchased your ticket you can keep buying additional raffle tickets at any time until December 10th.
ADDITIONAL SPONSORS:
Date and Time
Location
Refund Policy