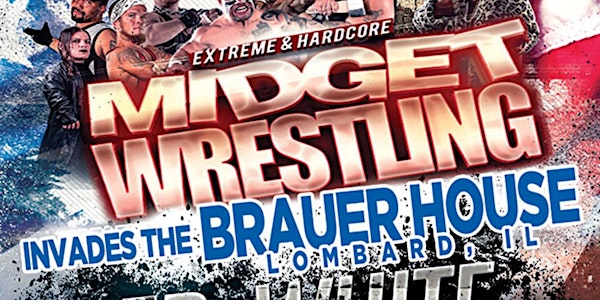 "Red, White, Black & Blue" Midget Wrestling
MICRO-WRESTLING ALL*STARS
Location
BHouse LIVE
1000 North Rohlwing Road, #13
Lombard, IL 60148
EXTREME AND HARDCORE MICRO-WRESTLING ALL*STARS INVADE BRAUER HOUSE LOMBARD - "RED, WHITE, BLACK, and BLUE"
About this event
FOR IMMEDIATE RELEASE:
Micro-Wrestling All*Stars Take Over Lombard, IL!
Is Pleased to Announce...
"Red, White, Black & Blue" Midget Wrestling
MIDGETS! MIDGETS! & WRESTLING!
Friday March 25th, 2022, 9:00PM BELL TIME / FIGHT TIME
It's Lewd! Crude! And Politically Incorrect! And It' s Micro-Wrestling All Star's World's Biggest Midget Wrestling Party! And It Takes Over the Neighborhood of Lombard, IL At the World Famous Brauer House for One Night Only!
It's An Action Packed All*Star Line-Up of Over the Top, Politically Incorrect, Anti-Establishment Wrestling and Sports Entertainment!
Action Adventure Meets Audience Integration and Participation!
It's Too RAW for WWE Monday Night RAW, Too Elite for All Elite Wednesday Night's and Too Much Smackdown for WWE Friday Night Smackdown!
Micro-Wrestling All*Stars Will Surely Take You to The Extreme!
"It's Huge! It's Epic!" It's No Small Event! And It's Brought to You by Brauer House and Micro-Wrestling All*Stars!
Produced And Presented by Micro-Wrestling All*Stars, Brauer House! A Fun Time and Event for All!
TICKETS AVAILABLE at EVENTBRITE.COM
CARD OFFCIAL UNOFFICIAL
GRUDGE MATCH A MATTER OF RESEPECT!
HARDCORE MATCH!
BARROOM, KITCHEN, STREET FIGHT FALLS COUNTY ANYWHERE IN LOMBARD!
BRAUER HOUSE BARBED WIRE MATCH!
RED, WHITE, BLACK AND BLUE ROYALE RUMBLE FLAG MATCH ALL WEAPION'S LEGAL!
21 +
CARD AND MIDGETS ALWAYS SUBJECT TO CHANGE!
-End of Release
Get a discounted rate at the Fairfield Inn & Suites Chicago Lombard across the street when you use our link.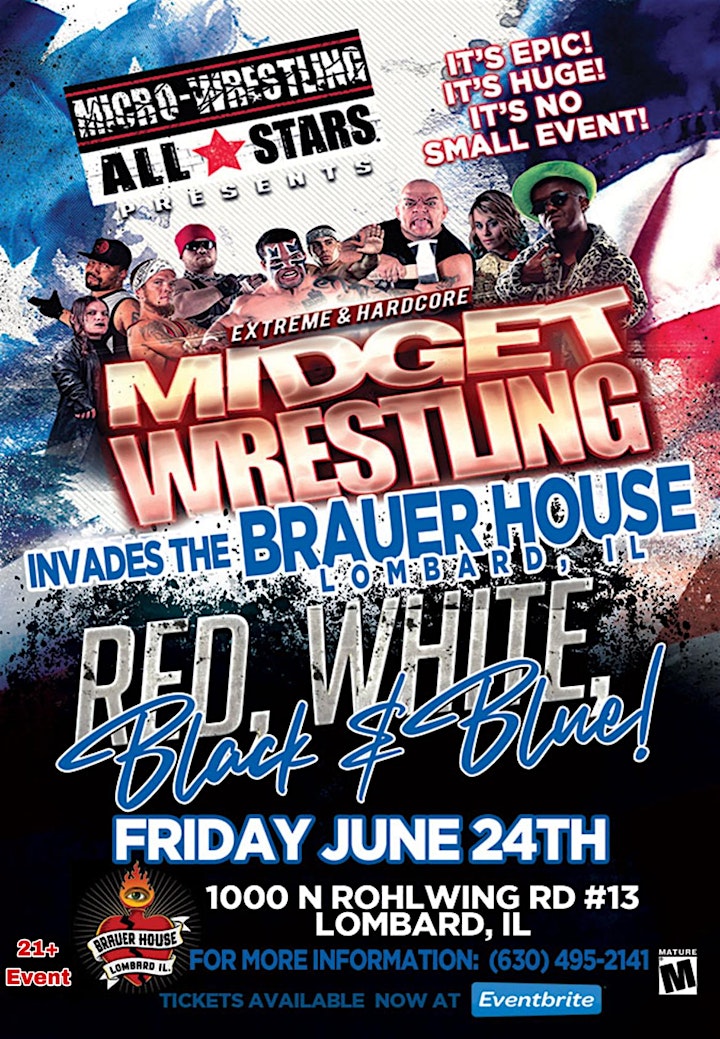 *If you purchased tickets to the postponed St. Patrick's Day show, they will be honored for this event.