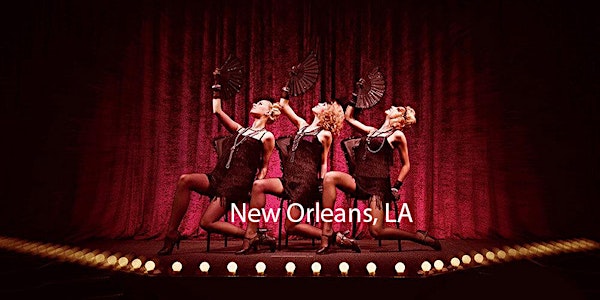 Red Velvet Burlesque Show New Orleans #1 Variety & Cabaret Show in NOLA
Red Velvet Entertainment is the #1 New Orleans burlesque show in the NOLA area. With burlesque shows every week, the ultimate cabaret show!
When and where
Location
Red Velvet Burlesque Show New Orleans 940 Elysian Fields Ave New Orleans, LA 70117
About this event
Red Velvet Entertainment is the number one New Orleans burlesque show in the New Orleans area. With burlesque shows every week, we provide some of the most intricate and exotic burlesque and cabaret performances in the country. We offer new and exciting performances that have never been seen before. With a combination of unparalleled choreography mixed with classical burlesque dance routines, we strive to outperform any other burlesque show in the industry. If you have never been to a burlesque show, do not hesitate and contact us today to learn more about how to reserve your tickets.
Burlesque shows vary but Red Velvet Entertainment combines the very best in burlesque and cabaret performances to provide an experience unmatched by any other production company. We have burlesque dancers from around the world to provide new and entertaining performances. Once you visit Red Velvet Entertainment, you will never need to see another burlesque show in New Orleans. We offer only the best from the industry and all of our clients leave feeling satisfied.
Our New Orleans burlesque dancers engage with the audience to ensure that everybody is having a good time during the performances. Our management team goes above and beyond to coordinate all of the stunts and choreography involved in each and every show. Every show is different from week to week which is why our repeat customers always enjoy coming back. Nobody is ever bored at our burlesque shows. Whether you have never seen a burlesque show before or if you are a burlesque show veteran, we receive favorable reviews and feedback from all of our clientele. We strive to provide new and exciting experiences on a weekly basis to people of all ages.
With burlesque shows across the country, we have burlesque dancers from all over the world. We mix new and exciting talent with professional veteran burlesque dancers who have been in the industry their entire lives. As a result, we are able to provide a blend of some of the most interesting burlesque talents in the industry that no other show is able to match.
Give us a call today or explore our website to learn more. Our dancers are waiting to entertain you and our customer service team is on standby to answer any questions you may have. We look forward to hearing from you.
Guests must be at least 21 years old at this location.
For more information visit us on the web at: https://redvelvetburlesqueshow.com
or give us a call at (844) 283-5838