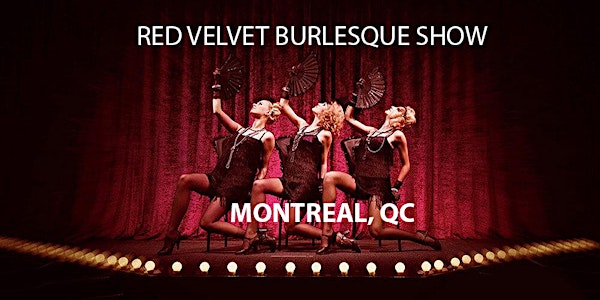 Multiple dates
Red Velvet Burlesque Show Montreal's #1 Variety & Cabaret Show in Montreal
Red Velvet Entertainment is the #1 Montreal burlesque show in the Montreal area. With burlesque shows every week, the ultimate cabaret show!
By Red Velvet Burlesque & Cabaret Variety Show
Date and time
Starts on Wed, Aug 10, 2022 8:00 PM EDT
Location
Bar Taboo 1950 Boulevard de Maisonneuve Est Montréal, QC H2K 2C9 Canada
About this event
Red Velvet Entertainment is the number one Montreal burlesque show in the Montreal area. With burlesque shows every week, we provide some of the most intricate and exotic burlesque and cabaret performances in the country. We offer new and exciting performances that have never been seen before. With a combination of unparalleled choreography mixed with classical burlesque dance routines, we strive to outperform any other burlesque show in the industry. If you have never been to a burlesque show, do not hesitate and contact us today to learn more about how to reserve your tickets.
Burlesque shows vary but Red Velvet Entertainment combines the very best in burlesque and cabaret performances to provide an experience unmatched by any other production company. We have burlesque dancers from around the world to provide new and entertaining performances. Once you visit Red Velvet Entertainment, you will never need to see another burlesque show in Montreal. We offer only the best from the industry and all of our clients leave feeling satisfied.
Our Montreal burlesque dancers engage with the audience to ensure that everybody is having a good time during the performances. Our management team goes above and beyond to coordinate all of the stunts and choreography involved in each and every show. Every show is different from week to week which is why our repeat customers always enjoy coming back. Nobody is ever bored at our burlesque shows. Whether you have never seen a burlesque show before or if you are a burlesque show veteran, we receive favorable reviews and feedback from all of our clientele. We strive to provide new and exciting experiences on a weekly basis to people of all ages.
With burlesque shows across the country, we have burlesque dancers from all over the world. We mix new and exciting talent with professional veteran burlesque dancers who have been in the industry their entire lives. As a result, we are able to provide a blend of some of the most interesting burlesque talents in the industry that no other show is able to match.
Give us a call today or explore our website to learn more. Our dancers are waiting to entertain you and our customer service team is on standby to answer any questions you may have. We look forward to hearing from you.
Guests must be at least 18 years old at this location.
A 2 drink minim is required per person ($25 for 2 drinks) - Cash Only
For more information visit us on the web at: https://www.redvelvetburlesqueshow.com/burlesque-show-montreal-ca.html
or give us a call at (844) 283-5838
======================================================
Red Velvet Entertainment est le spectacle burlesque #1 de Montréal dans la région de Montréal. Avec des spectacles burlesques chaque semaine, le spectacle de cabaret par excellence !
Red Velvet Entertainment est le spectacle burlesque montréalais numéro un dans la région de Montréal. Avec des spectacles burlesques chaque semaine, nous proposons certains des spectacles burlesques et cabarets les plus complexes et exotiques du pays. Nous offrons des performances nouvelles et passionnantes qui n'ont jamais été vues auparavant. Avec une combinaison de chorégraphies inégalées mélangées à des routines de danse burlesque classique, nous nous efforçons de surpasser tout autre spectacle burlesque de l'industrie. Si vous n'êtes jamais allé à un spectacle burlesque, n'hésitez pas et contactez-nous dès aujourd'hui pour en savoir plus sur la façon de réserver vos billets.
Les spectacles burlesques varient, mais Red Velvet Entertainment combine le meilleur des performances burlesques et cabaret pour offrir une expérience inégalée par toute autre société de production. Nous avons des danseurs burlesques du monde entier pour offrir des performances nouvelles et divertissantes. Une fois que vous visiterez Red Velvet Entertainment, vous n'aurez plus jamais besoin de voir un autre spectacle burlesque à Montréal. Nous n'offrons que le meilleur de l'industrie et tous nos clients repartent satisfaits.
Nos danseurs burlesques de Montréal interagissent avec le public pour s'assurer que tout le monde passe un bon moment pendant les représentations. Notre équipe de direction va au-delà des attentes pour coordonner toutes les cascades et chorégraphies impliquées dans chaque spectacle. Chaque spectacle est différent d'une semaine à l'autre, c'est pourquoi nos clients réguliers aiment toujours revenir. Personne ne s'ennuie jamais à nos spectacles burlesques. Que vous n'ayez jamais vu de spectacle burlesque auparavant ou que vous soyez un vétéran du spectacle burlesque, nous recevons des critiques et des commentaires favorables de toute notre clientèle. Nous nous efforçons d'offrir chaque semaine des expériences nouvelles et passionnantes aux personnes de tous âges.
Avec des spectacles burlesques à travers le pays, nous avons des danseurs burlesques du monde entier. Nous mélangeons de nouveaux talents passionnants avec des danseurs burlesques vétérans professionnels qui ont été dans l'industrie toute leur vie. En conséquence, nous sommes en mesure de fournir un mélange de certains des talents burlesques les plus intéressants de l'industrie qu'aucun autre spectacle ne peut égaler.
Appelez-nous dès aujourd'hui ou explorez notre site Web pour en savoir plus. Nos danseurs vous attendent pour vous divertir et notre équipe de service à la clientèle est prête à répondre à toutes vos questions. Nous avons hâte d'avoir de tes nouvelles.
Les clients doivent être âgés d'au moins 18 ans à cet endroit.
Un minimum de 2 verres est requis par personne (25 $ pour 2 verres) - Argent comptant seulement
Pour plus d'informations, visitez-nous sur le Web à: https://www.redvelvetburlesqueshow.com/burlesque-show-montreal-ca.html
ou appelez-nous au (844) 283-5838