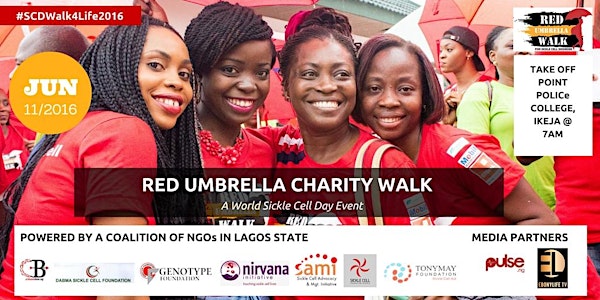 RED UMBRELLA CHARITY WALK FOR SICKLE CELL
When and where
Location
Police College Oba Akinjobi Street Lagos, Lagos Nigeria
Description
COMMEMORATION OF WORLD SICKLE CELL DAY 2016
8 Sickle Cell NGOs
1000 people
1 Event
1 Cause
Nigeria will once again join the rest of the world to commemorate the 2016 World Sickle Cell Day – June 19 – as designated by the United Nations to draw attention and create necessary awareness to the problems posed by sickle cell disorder. The Coalition Sickle Cell NGOs in Lagos State, comprising Sickle Cell Foundation Nigeria, Sickle Cell Advocacy and Management Initiaitve, Dabma Foundation, Genotype Foundation, Tony May Foundation, Temitayo Awosika Help Foundation, Crimson Bow Nigeria, Nirvana Initiative and Nike Opalemo Sickle Cell Foundation, is organizing a charity walk with the theme "S
CD: Walk for Life" on Saturday 11th June, 2016. #SCDWalk4Life2016
Join proffesionals, celebrities, friends of people with SCD, SCD warriors etc to bring awareness to a cause, that the UN has tagged a public health problem
The walk will bring together people from all works of life to advocate the recognition of the disorder as major public health problem in Nigeria where 1-in-4 people are healthy carriers of the sickle cell gene and over 150,000 children are born annually with symptomatic sickle cell anaemia. The walk will traverse the route from the Lagos Police College via Simbiat Abiola Way to Awolowo Way and terminating at LTV Agidingbi Ikeja from 7.00 – 10.00am.
Those interested in participating in the walk can register online at
https://goo.gl/KdYW8I
or call the following numbers: 08028509540, 08098007264 for more information.