About this Event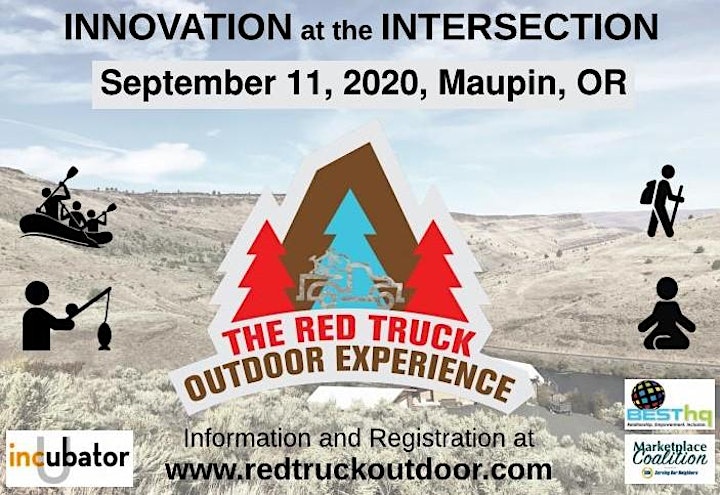 Connect & Grow at the RTOE, built for next level leaders by IncubatorU, in partnership with BESThq and the Marketplace Catalyst.
The Red Truck Outdoor Experience is an unparalleled fusion of outdoor recreation, business and leadership. This full-day experience provides professionals and teams the opportunity to learn cutting-edge business leadership skills, grow their team cohesion and build relationships, all in the pristine outdoor setting of Central Oregon.  Team Members have access to top-of-the-line equipment and coaching to allow for an inclusive, professional learning experience with far-reaching benefits to companies, communities and individuals.  
Join individually and/or bring your team; Visit Sponsorship page for Special team Rates
Agenda:
-- 8am (Optional) Deschutes Fun Run & Bike on the River (meet at Imperial River Lodge reception; bring your own bike) 
-- 9am   Arrivals & Check-In Begins (meet at lawn area Imperial River Lodge ; please arrive by 9:30am)
-- 10am Welcome & Activity 1 (Choice of Paddling, Yoga / Fitness, Fly Casting, Hiking)
-- Noon Leadership Lunch - Keynotes, food & community
-- 2pm Activity 2 (Second choice of Paddling, Yoga / Fitness, Fly Casting, Hiking)
-- 4pm Wrap and Happy Hour at the Imperial Bar & Grill (304 Bakeoven Market Rd, Maupin)
A portion of the net proceeds shall benefit the following non-profits:  Deschutes River Athletic Complex (DRAC) (see below), VetREST & Serving our Neighbors. 
See our Facebook Page;  For more info, Email INFO@BESThq.net  
Join as a team or register as an individual and we will add you to a team!
All participants agree to the RTOE Waiver and Release.
Build your firm & community!  Email INFO@BESThq.net or Click HERE to become a Sponsor & let's go to the next level together.