Red Tie Arts' Rhythm of the Night Summer Concert Series at Lucca Winery
Red Tie Arts 5th annual summer benefit concert series to raise funds for our Red Tie Kids arts study grant programs for the underserved kids
About this event
PLEASE NOTE: Even though it will say "Sold Out: There are ALWAYS cancelations. So, Call or Email me and I will help you. John, 209-543-4261 or mejohn@live.com
All Shows: Doors open at 6:30 PM, Showtime is 8:00 PM. There is pre-show live music, wine tasting, wine bars, and optional dinner options. Do not panic if your tickets all say June 12, go by the band name on the ticket
Need additional help or questions answered? mejohn@live.com or call John at 543-4261
Foreverland, Tribute to Michael Jackson, June 12 Listen and View
Greg Adams & East Bay Soul, July 17 Listen and View
Fleetwood Mask, August 14 Listen and View
Journey Revisited, Sept 18 Listen and View
Foreverland:
The Electrifying Tribute to Michael Jackson, has been leading a larger-than-life celebration of his musical legacy from coast to coast
A different kind of tribute band, you won't see any impersonations here. Instead, Foreverland simply aims to honor and do justice to the music and spirit of the King of Pop. Throughout this truly unforgettable performance, die-hard fans will relive their favorite MJ moments, and younger crowds will rediscover the amazing music that remains timeless.
This will be Foreverland's third appearance...because YOU asked for them back. Let's Party
Greg Adams and East Bay Soul:
Greg Adams is the driving force behind East Bay Soul. The expansive ensemble is a blend of Funk Jazz, R&B and Soul. East Bay Soul with a most soulful ensemble creates a union that has been nothing short of musical wizardry. Their extraordinary combined talents all bring incredible energy to the music with heart and soul. East Bay Soul is dedicated to a singular vision of bringing their brand of funk and the magic of their live performance into every note they play.
The combined musical pedigree of East Bay Soul reads like a who's who's in pop culture. Pick up a record, album or CD from any genre of music; R&B, soul, rock or contemporary jazz, one or several of the East Bay Soul members is most likely on it!
Fleetwood Mask:
Fleetwood Mask was formed to honor the legacy of Fleetwood Mac. Upon meeting with Mick Fleetwood in Maui several years ago, Fleetwood Mask humbly and proudly carries the honor of having Mick Fleetwood's only endorsement in America. Fleetwood Mask brings audiences the very best of Fleetwood Mac's 50-year history with a focus on the 1975 forward five-piece version of their lineup that catapulted them to super stardom. Fleetwood Mask has played nationally for nearly a decade to music lovers from all corners of the U.S. and each group member provides their character's select equipment, persona, and performance bringing audiences a truly authentic Fleetwood Mac experience.
Although new to Red Tie Arts' concerts, we are quite excited to have them here. We have checked them out carefully and have received amazing reviews both as performers and just wonderful people to work with. We hope you enjoy them.
Journey Revisited:
Journey Revisited is somewhat of a local band, and we are happy to see that, support them and let you have a good time with them. They have made a mastery of sounding like the original Journey of so many years ago. The drummer, David Hawkes, is Red Tie Arts go to percussion instructor for our Red Tie Kids program, and a fine instructor he is.
Journey Revisited is a professional group of musicians who are inspired by the music of Journey and bring "national act" experience to every stage. The band will play all the top hits with no rare B-sides or fillers. Each song is recreated note for note and performed in the original keys without pre-recorded backing tracks. What Journey fans remember hearing on the radio or albums is what they will get from Journey Revisited.
Journey Revisited's interpretations of great hits like Don't Stop Believin', Open Arms, and Who's Cryin' Now, and more.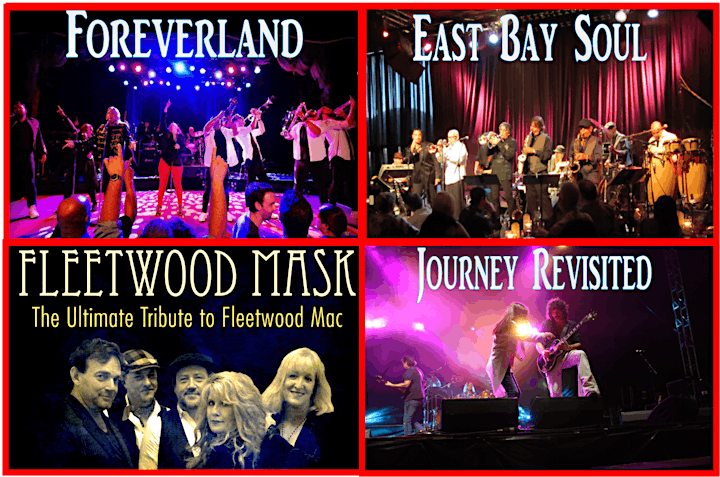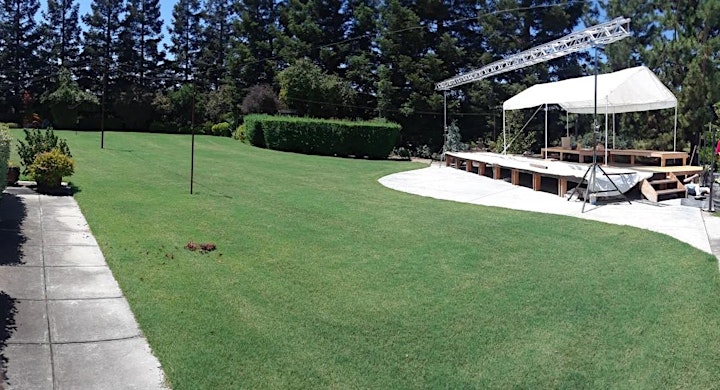 This is where it all happens. Lucca Winery, Ripon, CA
Organizer of Red Tie Arts' Rhythm of the Night Summer Concert Series at Lucca Winery