Red Tent Symposium For Women

Saturday, March 26, 2011 from 8:30 AM to 3:30 PM (EDT)
Event Details
  ********************************Please Note*****************************
PLEASE NOTE THE FOLLOWING: Attendees that register after 10am on Tuesday, March 22nd, may have to make arrangements for lunch on their own. Registration must be completed by Friday, March 25th by 4pm. On-site registration will not be allowed. If you have any questions, please contact us at redtentdc@gmail.com.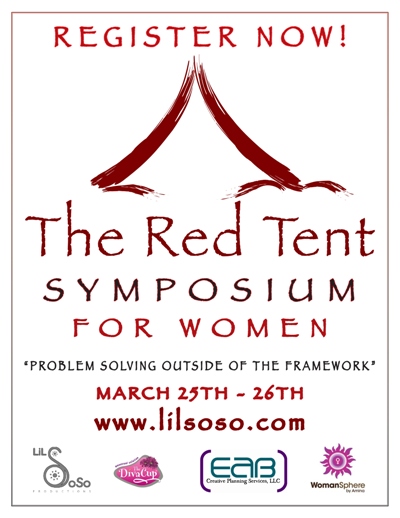 Thank you for your interest in attending.  The Red Tent Symposium for Women scheduled for March 25th & 26th, 2011. To reserve your seat, please select a ticket and register. Early bird rates will apply up until March 18th.
About:
The Red Tent Symposium for Women is a day and a half exchange centered on the needs of women.  Based on the novel The Red Tent by Anita Diamant, the red tent symbolizes a sacred and safe space where women can exchange ideas and insights. This short, information-packed symposium will feature panels that are designed to deal with the pressing and sometimes unpleasant issues faced by many women of the modern age. For the spring session, the theme is "Problem Solving Outside of the Framework".  The presentations will tackle the "framework"; that is, the societal traditions which seek to restrict expressions of our womanhood.
This iteration of the Red Tent Symposium will address topics of a personal nature, and will highlight women who have found ways to make things work, by using creative techniques and approaches to common challenges within 21st-century womanhood.
To learn more about the Symposium, please visit our information page located at http://lilsoso.com.

Symposium Schedule

Friday, March 25th | 5pm-8pm
Tap n'Parlour- 2001 11th St, NW-WDC

'We Exchange', the evening reception, provides pre-registrants the opportunity to pick up their symposium materials, and meet and exchange with attendees and featured presenters. As preparation for entering the tent, the event will feature an interactive storytelling icebreaker facilitated by Jessica Solomon of Spark Creativity.


Saturday, March 26th | 9:00 am-3:30 pm
John A. Wilson Building- 1350 Pennsylvania Ave, NW-WDC

The day-long symposium will include a light continental breakfast, followed by group panels and breakout sessions based on a combination of four modules (Physical, Mental, Emotional and Spiritual).
*Lunch will be provided as long as registration is confirmed by 10AM, Tuesday, March 22nd.*
The topics to be discussed in this session include:

"The Vital Role of Women-Centered Relationships": How do we learn to get along with other women? Panelists will share their insights on what is gained by being able to relate to other women, the nurturing that comes with practiced sisterhood and the pitfalls of being a "lone wolf". Moderated by: Jess Solomon Panelists: Melani Douglass, Annette Scruggs & Faith Hunter

"Happily Ever After?…": How does the fairy tale fare with reality? Meet women in various phases of "matedom". Panelists will share their thoughts, personal experiences and lessons learned in the realm of singlehood, marriage and divorce. Moderated by: Amina Carter. Panelists: Tamara Wellons, Renina Jarmon & Maisha Hyman Sumbry

"It's Okay to Walk Away: When Friendships Run Their Course": There are things our mothers never taught us; ending friendships is one of them. With a specific focus on friendships between women, panelists will discuss the difficulty often associated when a things are no longer "equally yoked", as well as suggestions for how to end gracefully and move on, without being bitter. Moderated by: Karen Parker Panelists: Nzinga Tull, Stephanie Renee & Fatima Binta

"The Balancing Act: Is There Such a Thing as Doing Too Much?": Women, by nature, have always been able to multi-task, but is this model wearing us out? The panel will address the balancing act by sharing their personal experiences of what works and when it's time to sit down and take a break. Moderated by: Michele Gray. Panelists: Chistine Brooks-Cropper, Hillary Nash & Kimberly Hines

"When Talking to 'The Girls' Is No Longer Enough": We rely on our girlfriends for sound advice, love and support, but sometimes our issues are beyond their capabilities. Panelists will share their "moment of clarity" experiences when they realized that it might be time for professional help. Hear from the mouths of these women on how they went about healing with therapy and what it has done for them. Moderated by: Najeema Washington. Panelists: CaShawn Thompson, Dr. Jennifer Joyner & Tamara Sawyer

"Body Love: Honoring the Self Everyday": The images of mainstream media aside, how do you feel about your physical self? Do you honor where you are, even if its not where you want to be? Loving the whole physical self can be a trial, especially with the changes women's bodies go through. Panelists will share their body stories and along with rituals and actions they do to affirm themselves on a regular basis. Moderated by: Andrea Thompson Panelists: Marialuz Castro Johnson, Les Talusan & Karen Culpepper

"When the Going Gets Tough, How to Keep Going": We are all "goddesses in the trenches". Regardless of what life has in store, there are always challenges. How do we keep moving when things threaten to slow us down or knock us off our paths altogether? Panelists tell tales of their "battlefield" experiences and how they survive the constant change that is life. Moderated by: Simone Jacobson Panelists: Evelyn Bandoh, Dana Smith, Risikat I. Okedeyi
**************************************************************************************************************************

The Red Tent Brunch w/ The Smart Chicks (Optional)
Sunday, March 27th | 12pm-3pm
Tabaq Bistro- 1336 U St, NW
Once you have had time to process, and if you feel so inclined, join us as we partner with the Smart Chicks collective for brunch in DC, following the symposium. Please indicate if you would like to participate on your registration form. The brunch is not part of the symposium fee. More details shortly...
When & Where
1350 Pennsylvania Avenue, NW
4th floor hearing room
DC


Saturday, March 26, 2011 from 8:30 AM to 3:30 PM (EDT)
Add to my calendar