Red Tent Symposium For Women- Fall 2011

Saturday, October 8, 2011 from 9:00 AM to 5:00 PM (EDT)
Event Details
  ********************************Please Note*****************************
PLEASE NOTE THE FOLLOWING: Attendees that register after  6pm on Tuesday, 10/5/2011, WILL have to make arrangements for lunch on their own. Registration must be completed by Friday, October 7, 2011 at 5pm. On-site registration for Saturday will not be allowed. Questions? Email us at redtentdc@gmail.com.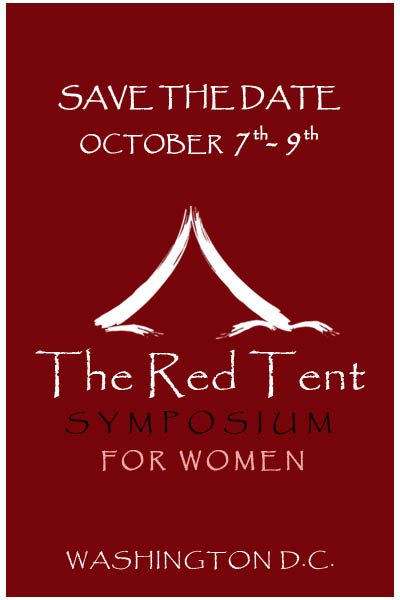 Thank you for your interest in attending.  The Red Tent Symposium for Women scheduled for October 7- 9th, 2011. To reserve your seat, please select a ticket and register. Early bird rates will apply up until September 27th, 2011.
About:
The Red Tent Symposium for Women is a day and a half exchange centered on the needs of women.  Based on the novel The Red Tent by Anita Diamant, the red tent symbolizes a sacred and safe space where women can exchange ideas and insights. With the continuing motto: "Problem-Solving Outside of the Framework", the Symposium will feature women-led workshops, lectures and panel discussions centered on problem solving in areas such as life balance health, advocating for children,  intuitive arts, mind of matter and more. The ultimate goal, as with each symposium, is to create effective dialogue and authentic exchange by and between women.

To learn more about the Symposium, please visit our information page located at http://entertheredtent.com

Symposium Schedule

Friday, October 7th | TBD
Blackbyrd, 2005 14th Street NW, WDC (Next to Marvin)

Red Spotlight on Sophia Nelson. Join us for the evening opening reception and meet and exchange with attendees and featured presenters. As a special treat, Author, Journalist,  and TV News Personality, Sophia Nelson, will be on hand to discuss her new book: Black Women Redefined.  Feel free to bring your copy of the book to be signed by our featured author.


Saturday, October 8th | 9:00 am-5:00 pm
John A. Wilson Building- 1350 Pennsylvania Ave, NW-WDC
*Lunch orders must be confirmed by COB Wednesday, October 5th, 2011.
You asked and we answered! The Fall Symposium now has more Interactive workshops. (Panelist, presenters and descriptions forthcoming).
Workshop Topics:

Centering by Abstraction: Intuitive Art as a Method of Balance
Led by: Helina Metaferia

What's the Martyr With You?: Getting Past Control Dramas & Getting on with Life
Led by: Risikat Okedeyi

Your Mind is the Matter: Recognizing the Patterns and Making the Changes
Led by: Amina Carter

Everybody Has an Idea: Exploring Entrepreneurship
Led by: Evelyn Bandoh

If You Don't, Who Will?: Advocating for Your Children
Led by: Tamara Wellons

Let's Talk About It: Reproductive Life Planning
Led by: Cynthia Flynn

Keeping Things in Working Order: Herbal Alternatives for Women's Health
Led by: Barbara Grose
 Panel Discussions:
"Trending Issues On Women's Health"
"The Ties That Divide: Race, Class & Sexuality"
**************************************************************************************************************************

The Red Tent Brunch  (Optional)
Sunday, October 9th, 2011 | 12pm-3pm
Location: Tabaq Bistro, 1336 U Street, NW
Once you have had time to process and if you feel so inclined, join us for brunch in Washington, DC. The regular menu will be available and there will be $3 Mimosas and Bloody Mary's. Please indicate if you would like to participate on your registration form. The brunch is a separate cost from the symposium fee. More details shortly...
When & Where
1350 Pennsylvania Avenue, NW
4th floor hearing room
DC


Saturday, October 8, 2011 from 9:00 AM to 5:00 PM (EDT)
Add to my calendar