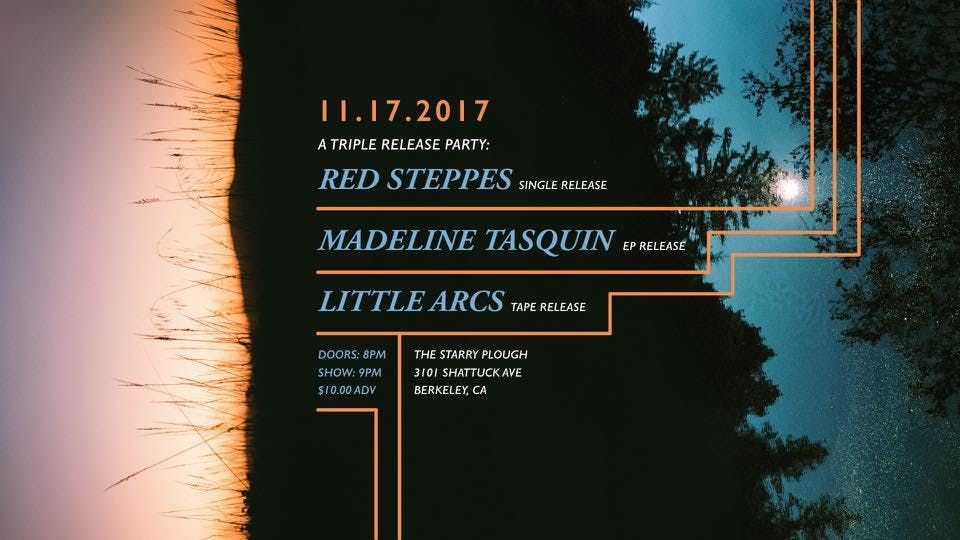 About this Event
3 bands who love each other team up for a TRIPLE RELEASE at Berkeley's Starry Plough ♥️
(It's really close to the Ashby Bart Station, so we hope to see some of our SF friends there too!)
— —
. s i n g l e r e l e a s e .
RED STEPPES (Native Cat Records)
Nika Aila States is back in the Bay from Portland for a time, don't miss a rare opportunity to feel her music come alive in full band format. 
http://redsteppes.bandcamp.com/
. e p r e l e a s e .
MADELINE TASQUIN
Celebration for Maddy's 2nd EP, Future Telephone, produced by Félix Petit of Dondepiano Collective in Montreal. 
Performing w/ Shiloh Parkerson (vocals, flute) & Hannah Levy (vocals, percussion, bass)
http://madelinetasquin.bandcamp.com/
. t a p e r e l e a s e .
LITTLE ARCS
Vocal-centric Oakland dreampop trio Little Arcs brings forth their debut EP casette. Made up of Derek Sup (synth/vox), Zach Giberson (guitar/vox), and Hannah Levy (bass/vox).