Come join the Red Rock Hemp Festival! There's plenty of music from local and national bands throughout the day, along with guest speakers,
About this event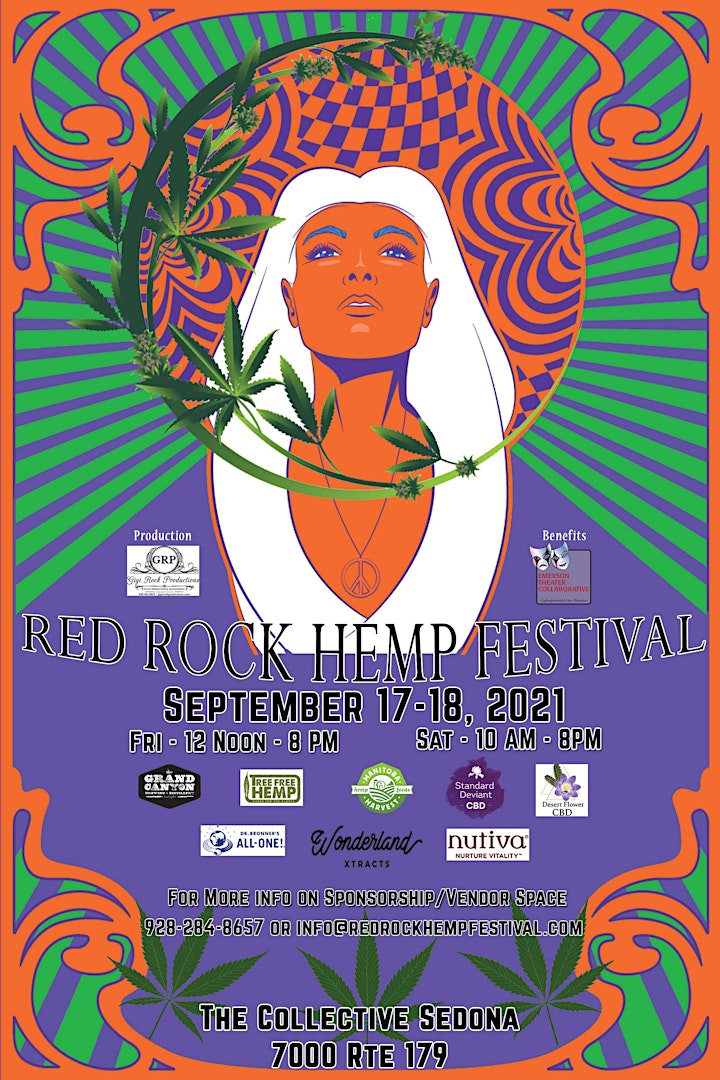 Organizer of Red Rock Hemp Festival
Gigi Rock Productions specializes in event production with an emphasis on supporting community, from local musicians to indigenous ceremonies and workshops. We are a dynamic, full-service event Production Company that produces events around the globe.
We have produced events around the world, our understanding of international work permit, visa requirements, customs regulations, and permit procedures have enabled us to better serve our clients as they conduct their business on an increasingly global scale. Our staff is well-traveled, multi-lingual, sensitive to cultural differences and able to operate effectively in any cultural environment.
Gigi Rock is the Owner and is well respected in the communities of the indigenous people for her knowledge and respect and the ability to maintain a professional aura for event management and production.
Services & Event Production
Music & Concert Booking

 

– We are a leader in identifying, negotiating, securing, and emerging music talent of every kind for any type of event. Our experience, relationships, direct access and low-cost provides corporations, charities, and private interests access to the musical superstars and undiscovered talent.
Public Events/Festivals

 

– We are an experienced producer and consultant in the area of public events – both free of charge to attendees and for which tickets are sold.
Sporting Events

 

– GRP has ran sporting events to include, Celebrity Players Golf Tournament, televised on ESPN.  Celebrating pool tournaments, poker tournaments, and even paintball tournaments. 
Private Events

 

– We have catered private interests, individuals and families as the production company of one-of-a-kind celebrations. From upscale private home concerts, holiday parties, celebrations of personal accomplishment, castle weddings, we can provide our clients with individualized, world class events.
Not-for-Profit

 

– We have worked extensively for non-profit organizations. Producing fund-raising events, secure talent and celebrity support and create exciting new programs to attract and retain important donors.
Indigenous Events

 

– We are honored to work with the People of all cultures in keeping with the ceremonies and most importantly, knowing the protocols for all cultures. We offer top quality events that are run and planned with a commitment to excellence. We insure that all aspects of our events are handled in a professional, responsible manner from the earliest planning phases, beginning from concept, to event planning development, to completion. We strive to provide memorable events, and we place no limits on event size or scope.