Description
この度Red Pulseが新開発プロダクトPHOENIXの発表に伴い、東京ミートアップを開催することになりました。
Red Pulseとは現在中国で500社以上が利用している金融情報プラットフォームです。中国市場に特化したBloombergをイメージしていただけるとわかりやすいかと思います。
ブロックチェーン技術とトークンをプラットフォームに実装することで、透明性のあるインセンティブシステムを構築することを目指しています。
イベントではRed PulseのCEOはもちろんのこと、パートナーであるAPEXのCEOであるJimmy氏、中国ブロックチェーン業界のVenture CapitalであるLedgerCapitalの方や、国際的なブロックチェーンカンファレンスであるBeyond Blocksでも登壇したMasa Keith Nakatsu氏など非常に豊富なゲスト陣となっています。
---
On July 28, Red Pulse will be hosting an exclusive meetup for our community members of crypto enthusiasts, finance professionals, and research analysts. The meetup will focus on the intersection between the content/knowledge/media space and blockchain/crypto and feature PHOENIX, the next evolution of the Red Pulse platform.
Speakers include a who's who of industry leaders from education, media, finance, and blockchain talking about the recent developments, issues, and opportunities in the current climate in content and media, as well as how blockchain is poised to shake up the entire industry.
Attendees will have exclusive access to demo PHOENIX early and be some of the first people to join our knowledge revolution.
---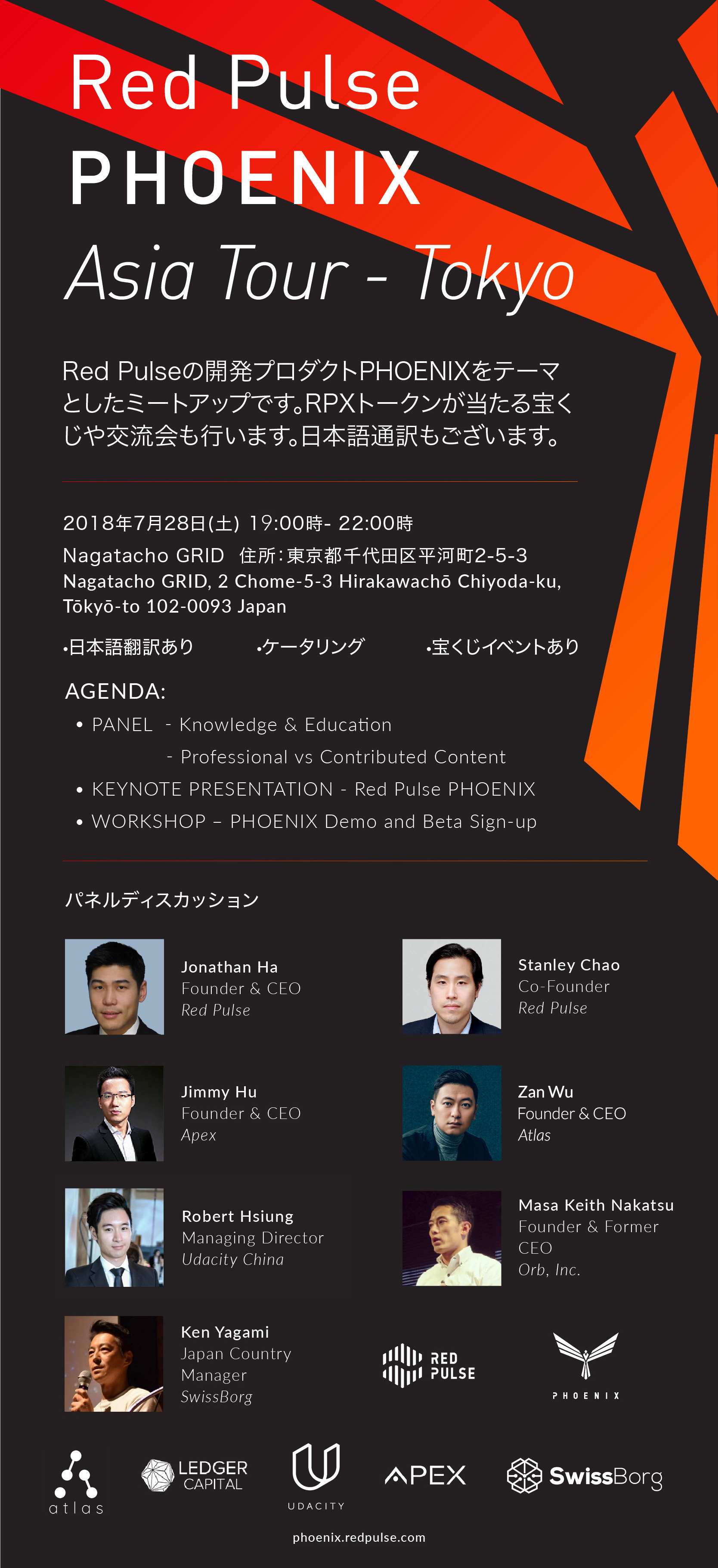 ---
タイムテーブル
19:00 – イベント開始
19:10- パネルディスカッション:知識と教育、専門家によるコンテンツ vs 寄付されるコンテンツ
登壇者:Ken Yagami(SwissBorg日本管理人)、Masa Keith Nakatsu(Orb株式会社設立者兼CEO)、Zan Wu (Atlas CEO)、Jimmy Hu(APEX CEO)、Robert Hsiung (Managing Director of Udacity China)
19:50- お茶休憩
20:00- 基調講演:Red Pulse PHOENIX
登壇者:Jonathan Ha(Red Pulse共同設立者兼CEO)
20:40- ワークショップ:PHOENIXデモ、ベータ版サインアップ
登壇者:Stanley Chao(Red Pulse共同設立者兼データサイエンスリーダー)
21:00- 軽食、交流会
---
Agenda:
19:00 – Event begins
19:10 – PANEL: Knowledge & Education, Professional vs Contributed Content
Panelists – Ken Yagami (Japan Country Manager of SwissBorg), Masa Keith Nakatsu (Founder and & Former CEO of Orb, Inc.), Zan Wu (CEO of Atlas), Jimmy Hu (CEO of APEX), Robert Hsiung (Managing Director of Udacity China)
Moderator – Stanley Chao (Co-Founder of Red Pulse and Head of Data)
19:50 – Tea Break
20:00 – KEYNOTE PRESENTATION: Red Pulse PHOENIX
Presenter – Jonathan Ha (Co-Founder and CEO of Red Pulse)
20:40 – WORKSHOP – PHOENIX demo and beta sign-up
Presenter – Stanley Chao (Co-Founder of Red Pulse and Head of Data)
21:00 – Food and networking
---