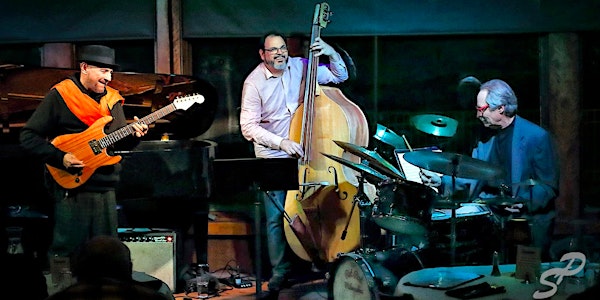 Red Planet
Dinner and cocktail seating and service begins 1 hour before showtime in the Dunsmore Room.
When and where
Location
The Dunsmore Jazz Room 6161 Hwy 65 N Minneapolis, MN 55432
About this event
Soul searching, blissful camaraderie
Like Dolphins at Play in the Waves, Red Planet dives into the Music of "Right Now".
Dean Magraw - guitar
Jay Epstein - drums
Chris Bates - bass
Dean Magraw, Jay Epstein and Chris Bates began their journey together as Red Planet in 2004. A mutual love of John Coltrane, Thelonious Monk and Jimi Hendrix provided fertile ground and ample room to explore and create together. Through the music of these masters they have developed a group sound that harnesses the explosiveness of rock and roll, the buoyant jubilation of swing and the searching, probing explorations of open improvisation. Red Planet can take you from a quiet storm of shimmering intimacy to a churning, explosive crescendo of vulcanized power. These three friends LOVE to PLAY and you will definitely be entranced by their communicative energy.
Red Planet released their first album, "Space Dust" in 2011 to great critical acclaim in the Twin Cities. It was hailed as a triumph and served notice that Magraw was back after recovering from cancer. Red Planet returned to action after this with a renewed sense of musicality. Life has a tendency to do that to the music and musician - make it deeper, push you to dig deeper, to pull more impact from each note, put more intimacy into the listening. The bonds of fellowship grow deeper through experience and Dean, Jay and Chris have continued to grow together.
"One of Jazz's most innovative threesomes" - Jazz Police
RedPlanetJazz.com