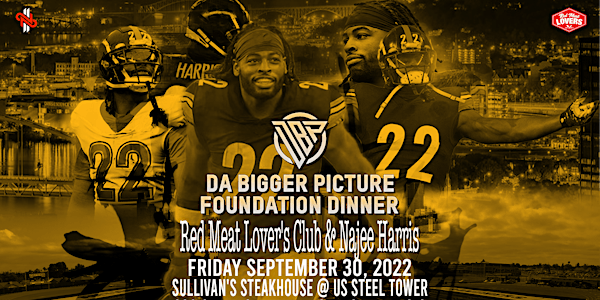 Red Meat Lover's Club & Najee Harris Beef for Da' Bigger Picture Foundation
We gather for good. We consume with great might as we raise valuable funds for Da' Bigger Picture Foundation via auction. This will be epic.
When and where
Location
Sullivan's Steakhouse @ US Steel Tower 600 Grant Street #Lobby Pittsburgh, PA 15219 United States
About this event
The Red Meat Lover's Club and Najee Harris come together to consume with great might for a great cause.
Sullivan's Steakhouse will be the epic backdrop for this historic night!
This night will be a world class night of beef, cocktail and Alec Bradley cigar.
Over consumtion of beef encouraged, a couple of world class cigars enjoyed at our "one night only"Smoke Stack cigar lounge, bourbon cocktails handed out with enthusiasm.
Sullivan's will provide a curated open bar for everyone to enjoy.
The Passed Menu....Rookies fill up on apps
Beef Wellington Bites, Cheesesteak Eggrolls, Devilish Oysters Rockefeller,
Nueske's Pork Belly, Mini Crab Cakes
Custom Chef Action Stations / Small Plates
Prime Ribeye Carving Station Au Jus, Horseradish Cream, Garlic Mashed Potatoes
Sauteed Baby Spinach, Roasted Garlic Oil, Red Pepper Flakes
Herb Crusted Tenderloin Sliders Porcini Mushroom Spread, Arugula, Petite Frites
Heinz Ketchup and Roasted Garlic Aioli
Roasted Lollipop Lamb Chops Mint Bordelaise, White Cheddar & Bacon Au Gratin Potatoes
Brussels Sprouts, Caramelized Onions
Dessert Station
Moonlight Chocolate Cake
NY Style Cheese Cake with Strawberries
Key Lime Pie with Raspberry Puree
Da' Bigger Picture Foundation will be the charity partner. In Red Meat Lover's Club fashion we will raise money for this incredible cause via auction. Live, silent and raffle will be held in true Red Meat Lover's Club fashioned. All profits from auctions will be donated to our amazing chairty partner.
Najee has selected Homeless Children's Education Fund to be the recipient of the funds for this amazing night.
For information on this incredible organization https://homelessfund.org/
This night will be the first Red Meat Lover's Club "meating" in Pittsburgh and no meat is safe this weekend.
Da' Bigger Picture Foundation focuses on assisting underserved families in reaching their potential and goals. The Foundation hope is to provide tools and assistance to families facing challenging times. Some of the key areas of focus will be education, homelessness, addressing hunger and utilizing sports as a platform to develop life skills.