Actions and Detail Panel
RED MASQUERADE BALL - A Sexy Venetian Holiday Affair
Fri, Dec 23, 2016, 9:00 PM – Sat, Dec 24, 2016, 4:00 AM EST
Description
One of NYC's most famous annual Holiday traditions is the debaucherous Venetian masked event, in the spirit of Stanley Kubrick's "EYES WIDE SHUT" film w/ Tom Cruise & Nicole Kidman (PG-13 for this event, of course). Many playfully call it an elegant Halloween party in December. Due to the tremendous success of the past events, the famous "RED MASQUERADE BALL: A Sexy Venetian Holiday Affair" returns once again to Stage48.
What Happens Behind the Mask
Stays Behind the Mask...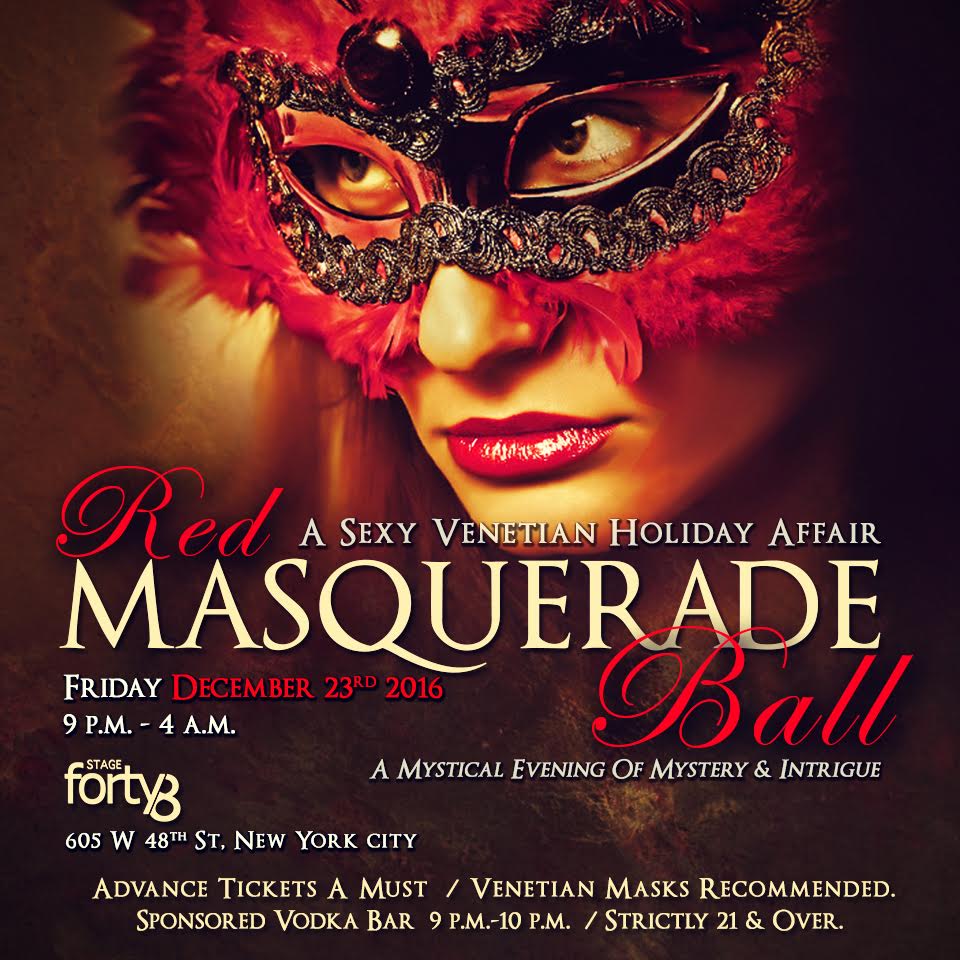 This is a Venetian "mask" party, in the spirit of Carnival of Venice. Back in 1292, the original purpose of the Carnival of Venice was to serve as an excuse for people of different social classes to mingle and indulge in behaviors that
might be otherwise deemed questionable, if not downright salacious. The custom of wearing masks developed to protect the identity of the Carnival participants and empowering them anonymous freedom to partake in their most intimate of fantasies and desires.

The point of RED MASQUERADE BALL is to provide a sexy evening of 'mystique' & 'playfulness' for you and your friends to experience the freedom of anonymity behind the mask, leaving your inhibitions behind, and setting your wildest fantasies free. So get in the playful, adventurous Venetian spirit and prepare for what is sure to be one of the most unforgettable & most tantalizing experiences of your lives...


GENERAL ADMISSION : $20
Featuring a Celebrity DJ performance
Sponsored Vodka Open Bar 10-11pm
Coat check (provided by and responsibility of venue - additional charge)
All sales are final. Tickets are non-refundable.


ROYAL VIP ACCESS : $35
All the benefits of Guest Admission ticketholders plus
VIP Priority Admission on a separate VIP line
All sales are final. Tickets are non-refundable.


VIP BOTTLE PACKAGE : $400
Includes all Guest Admission benefits
6 ROYAL VIP Tickets
1 Bottle of Grey Goose or Ciroc (Litre Bottle)
Reserved banquet seating in the VIP
Cocktail service at your table and mixers will be provided
VIP Priority Admission on a separate VIP line
Bottle Service Gratuity is a mandatory charge; paid to the venue on the night of the event. It is NOT included in the package price.
A major credit card and valid photo ID must be presented prior to being seated the night of the event.
Sales Tax on liquor is included in the package price
If your group is larger than 6, additional VIP tickets can be purchased separately
Tickets and Bottle Package Purchases are NON-REFUNDABLE regardless of attendance



We highly encourage you to purchase your own unique mask so you "stand out" from everyone else and that expresses your own one-of-a-kind "alter-ego". There are plenty of wonderful costume shops in NYC as well as many wonderful online retailers that sell a wide assortment of Venetian masks for very economical prices.





21 & OVER. COCKTAIL ATTIRE REQUIRED




LADIES : Cocktail Dresses Required




GENTLEMEN : Dress Shirts & Slacks Required




(Suits or Tuxedos preferred)