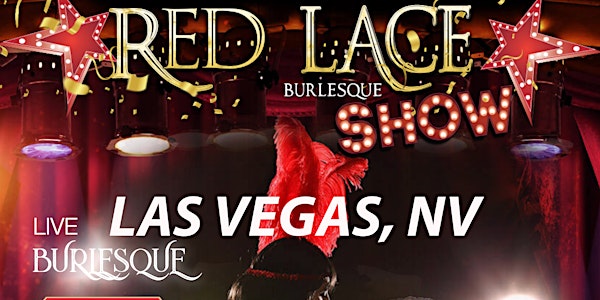 Multiple dates
Red Lace Burlesque Show Las Vegas & Variety Show Las Vegas
Red Lace Burlesque & Variety Show in the Las Vegas. Weekly Las Vegas Burlesque and some of the very best variety in town!
Date and time
April 27 · 6pm - September 29, 2024 · 7pm PDT
Location
Red Lace Burlesque Las Vages 174 S Las Vegas Blvd Las Vegas, NV 89101
About this event
The Red Lace Burlesque Show & Variety Show in Las Vegas is one of the most entertaining and fun shows you'll experience in Las Vegas. Red Lace has burlesque variety shows every single week and with the variety at our shows; you can come back again and again and always be entertained. Now Red Lace Burlesque has become one of the very best Nationwide Burlesque shows, and you can catch us not only in Las Vegas, but in a city near you!
If you're looking to see some of the sexiest burlesque dancers, knock your socks off burlesque variety acts and superb cabaret performers, then you're only tickets away from enjoying just that at Red Lace Burlesque! At Red Lace Burlesque we provide some of the most intricate and exotic burlesque and cabaret performances nationwide! We offer new and exciting performances that have never been seen before in the burlesque scene. With a combination of unparalleled variety acts, mixed with classical burlesque dance routines, we strive to keep you coming back for more. If you have never been to a burlesque show in Las Vegas, it is a must do experience, or any one of our locations across the country for that matter.
The Red Lace Burlesque variety extravaganza promises to keep you entertained and dazzled by circus acts, amazing dancers of all sorts, sensual performances by stunning entertainers, comedy, and the most mystical drag entertainment around! What better way to celebrate a friend or occasion, wow a date or take the family out for some fun! Watch your counterparts, friends, or family in awe while they await the next move or next performer at this tantalizing and exciting event. Red Lace Burlesque brings a new twist to the industry of burlesque variety cabaret entertainment, now let it also be a part of an unforgettable evening of entertainment for you and your crew at your next celebration or night out!
Please, do not hesitate and contact us to learn more about or click for tickets below to reserve your tickets today. You'll have the best time of your life at the Red Lave Burlesque Variety Show in Las Vegas or a city near you, we got you covered, and your only a few clicks away from just that.
Red Lace Burlesque shows vary across locations, but Red Lace Entertainment combines the very best in burlesque and cabaret performances to provide an experience that will be unforgettable. Our shows may be slightly different, but the quality and standards are universal. We have burlesque dancers from around the world to provide new and entertaining performances in a city near you. Each performer has a different background and different experiences, so you never get the same show twice! Once you visit the Red Lace Burlesque Show, you wonder why you never have before. Red Lace Entertainment only offers the very best from the industry in all our cities, and we always leave all our attendees wanting more.
This event is 18+ to enter and 21+ to purchase and drink alcohol.
https://redlaceburlesque.com/burlesque-show-las-vegas-nv.html
About the organizer
The Red Lace Burlesque Show is one of the best burlesque shows operating in in many cities in the United States. Red Lace has burlesque variety shows every single week and with the variety at our shows; you can come back again and again and always be entertained.