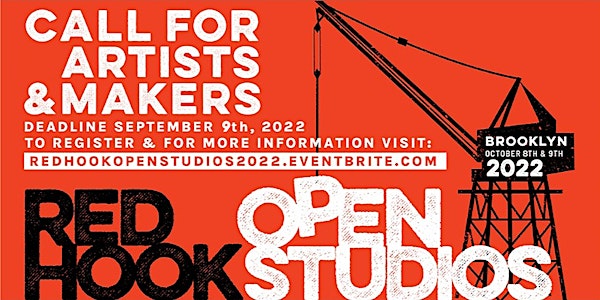 RED HOOK OPEN STUDIOS 2022
RED HOOK OPEN STUDIOS SATURDAY & SUNDAY, October 8th & 9th 1-6pm REGISTRATION IS NOW OPEN : $25 suggested fee per artist
When and where
Location
Red Hook Red Hook Brooklyn, NY 11231
About this event
REGISTRATION DEADLINE EXTENDED TO SEPTEMBER 11, 2022
SHOW the Community what you've GOT !!!
Artists and Makers: Open your studios to the public.
SATURDAY & SUNDAY, October 8th & 9th, 2022
1:00 pm-6:00 pm
REGISTRATION IS NOW OPEN : $25 suggested fee per artist
This fee gets your studio/maker space on the RHOS2022 Map which is published online and in print.
To register click on TICKETS
FINAL DEADLINE FOR REGISTRATION EXTENDED TO SEPTEMBER 11, 2022
Email photos of your work for promotion on the Red Hook Open Studios instagram to: rhos.images@gmail.com
More information will be updated on the website at: www.redhookopenstudios.com
Connect with the Red Hook Artist and Maker Community at the Information Party on Saturday October 1st, 4-6 pm at Hot Wood Arts. 481 Van Brunt Street 9B, Brooklyn, dockside.
Maps, balloons and posters will be available for pickup. Swag, too.
Red Hook Open Studios would love to have your help to promote and market the event, recruit artist/makers and do various important tasks such as hanging posters, distributing cards etc. YOU can help with flyer and poster distribution in your neighborhoods. We, the organizers, are also volunteers! Postcards and posters will be available before the party at NYPrinting & Graphics, 481 Van Brunt St.
Red Hook Open Studios facebook page:www.facebook.com/redhookopenstudios
Follow our instagram @www.instagram.com/redhookopenstudios