| | |
| --- | --- |
| Red Hook Criterium Volunteer | |
Event Details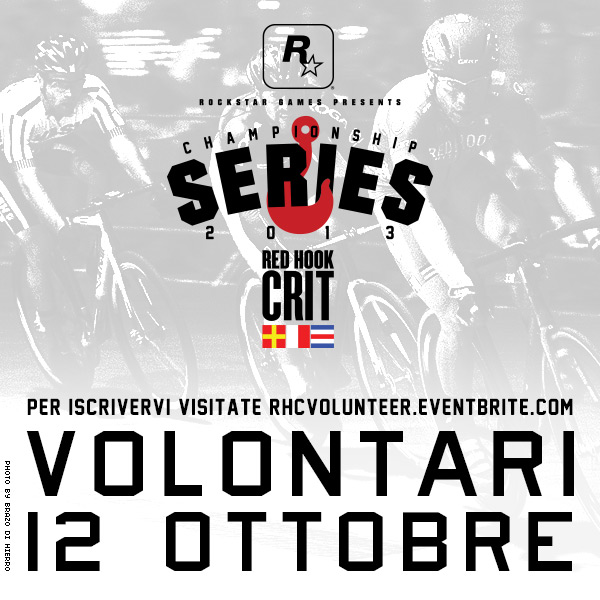 LA RED HOOK CRITERIUM MILANO CERCA VOLONTARI
12 OTTOBRE 2013
La Red Hook Criterium è cresciuta costantemente nel corso degli ultimi 6 anni. Il successo di questo evento è direttamente collegato ad una flotta di volontari che impegnano il loro tempo e sudore per contribuire a rendere tutto pronto e senza intoppi.
La Red Hook Criterium ritorna a Milano per la 4 edizione. Ci aspettiamo un successo ancora più grande delle edizioni passate e ancora una volta chiediamo gentilmente aiuto alla comunità locale. 
Volontari possono scegliere di quale compito occuparsi e la fascia oraria in cui farlo.

I volontari possono registrarsi per più attività e fasce orarie, purché esse non si sovrappongano.

Sarà inviata una mail di approfondimento ai volontari con più informazioni e istruzioni relative al ruolo che sceglieranno. 

I volontari riceveranno un biglietto omaggio per il cibo presentabile a uno qualsiasi dei punti di ristoro alla RHC.
 I volontari riceveranno una t-shirt edizione in limitata "RHC Race Crew".
SETUP PERCORSO
SABATO - 12 Ottobre
MATTINO: 10:00 - 13:00
POMERIGGIO: 13:00 - 16:00
L'impostazione del percorso comprenderà:
Spazzare il corso di ghiaia e vetro, posizionamento delle barriere, affissione pannelli sponsor, posizionamento torri faro, e qualsiasi altra cosa che deve essere a punto per la realizzazione della gara. I Commissari di percorso dello staff saranno coordinati dal direttore dell'installazione del circuito.
COMMISSARI DI PERCORSO
QUALIFICHE: 16:30-18:30
GARA: 20:30-10:00
CRITERIUM: 20:30 - 22:00
Il commissario sarà responsabile del mantenimento della sicurezza e pulizia del circuito durante la corsa. I rischi includono spettatori, ciclisti caduti, oggetti spinti dal vento sul circuito e tutto ciò che può entrare nel percorso e potenzialmente disturbare la corsa. Ogni commissario riceverà un giubbotto fluo e un fischietto. I Commissari saranno posizionati lungo tutto il circuito dal direttore dell'installazione del circuito
* IMPORTANTE
Se vi iscrivete al volontariato contiamo su di voi per presentarvi al vostro turno. Se i vostri piani subiscono cambiamenti, vi preghiamo di comunicarlo almeno 48 ore prima della gara.
----------------------------------------------------------------------------------------------------------------------------------------------------
The Red Hook Criterium has grown steadily over the last 6 years. The success of this event is directly related to our volunteers who donate their time and sweat to help make everything run smoothly. 
For the fourth year in a row the Red Hook Criterium will hold a race in the beautiful city of Milano. We are expecting this to be our biggest event ever in Europe and we are graciously asking the local community to help us out.  
Volunteers can choose which task and time slot.

Volunteers can sign up for multiple tasks and time slots as long as they don't overlap.

Volunteers will be emailed closer to the event with further instructions related to the task they choose.

Volunteers will receive a complimentary food ticket redeemable at any of the RHC food vendors.

Volunteers will receive a limited edition "Race Crew" t-shirt 
COURSE SETUP
MORNING: 10:00 - 13:00 
AFTERNOON: 13:00 - 16:00 
Course setup will include sweeping the course of gravel and glass, positioning barriers, hanging sponsor panels, positioning light towers, and anything else that needs to happen for the circuit to become race ready. Marshals will be directed by the Course Setup Director. 
COURSE MARSHAL
QUALIFYING: 17:00 - 19:30 
Course marshals will be responsible for keeping race circuit safe and clear of obstacles during competition periods. Hazards include spectators, crashed cyclists, objects blown onto circuit and anything else that can potentially enter course and disrupt the race. Each marshal will receive a neon vest and a whistle. Marshals will be positioned around the circuit by the Course Marshal Director. 
*IMPORTANT
IF YOU SIGN UP TO VOLUNTEER WE ARE COUNTING ON YOU TO SHOW UP FOR YOUR SHIFT. IF YOUR PLANS CHANGE WE ASK TO BE KINDLY NOTIFIED WITHIN 48 HOURS OF THE EVENT 
Red Hook Criterium Volunteer