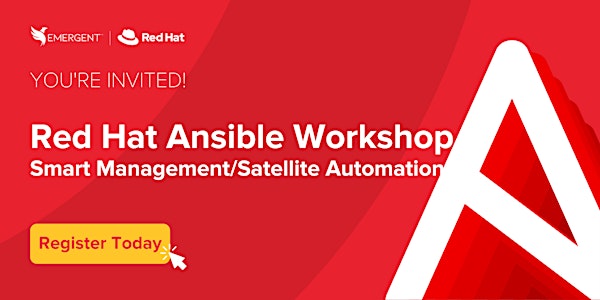 Red Hat Ansible Workshop - Smart Mgmt/Satellite Automation
You're invited! Get Hands-On with Red Hat. Register Today!
Date and time
Wednesday, June 7 · 8am - 12pm PDT
About this event
Workshop Overview
In this workshop, you will learn how to get the most from Red Hat Smart Management in concert with Red Hat Ansible Automation Platform.
What You Will Learn
Participants will manage dynamic inventories and work with hosts to ensure they are registered to a Red Hat Satellite instance.
The participant will then create a compliance policy, set a schedule to deploy content, and use Ansible Automation Platform to conduct an OpenSCAP scan, then continue remediation best practices to ensure their sandbox environment adheres to their security policy.
Participants will convert a server from CentOS to RHEL while maintaining a 3 tier application stack using content repos provided by Satellite and executed by Ansible. 
Exercises
Configuring the Lab Environment
Compliance, Vulnerability Management
Patch Management
CentOS to RHEL conversion
Pre-Requisites
This workshop can be completed using a chromium-based web browser
This workshop may require a personal computer if your work-provided machine prevents you from accessing the internet
After finishing this lab you are ready to start using Ansible for your automation requirements!
Please contact marketing@emergent360.com if you should have any questions
About Emergent, LLC 
Emergent is an award-winning IT solutions provider and value-added reseller based in Virginia Beach, Va. Since 2006, Emergent has specialized in solving complex challenges and delivered best-of-class technology solutions to various operations worldwide. Emergent partners with some of the most prominent and industry-leading technology platforms to deliver lifecycle IT services across cloud computing, open-source, and creative solutions. For more information or to place an order, contact Emergent at 800-292-1000; email sales@emergent360.com or visit  www.emergent360.com.