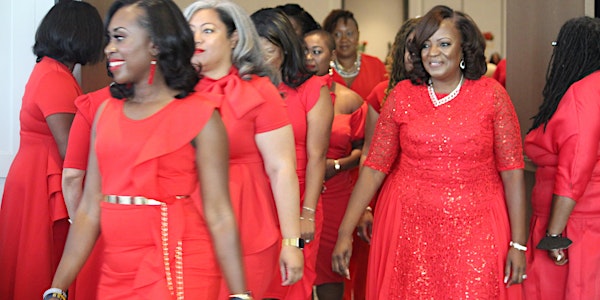 Red Dress EXPERIENCE
It's Officially 2023 Red Dress Season! The theme of this year's brunch is " I AM SPEAKING".
When and where
Location
9000 Avalon Blvd 9000 Avalon Boulevard Alpharetta, GA 30009
About this event
Conversations that gather the voices of black women and address the pipeline to c-suite and leadership, entrepreneurship , wellness, wealth, building your network, understanding the HER Agenda, and thriving together.
Who is The Event For?
This year's theme is "I AM SPEAKING.... Listen" Converations for empowering female leaders as well as aspiring female leaders and addressing the unique challenges specific to black women in business, corporate, non-profit, education, government, and faith based leaders from the community that prepares them for growth.
Overview:
Women are empowered by what they learn and what they are exposed to, as well as their unique experiences and intersecting identities, so it is important to embrace and address the divergent challenges and barriers they face. Our Red Dress Expereince is training curated by women for women. This 3 Day Event provides interactive conversations and a safe space for black women professional stories, experiences and allow participants the opportunity to glean from one another. Experience a journey of empowerment and reflection, resulting in strengthened performance and professional confidence for pathways to C-Suite and Leadership.
Additionally , our Red Dress Experience is a networking in red event where we conclude the retreat and host over 200 women and honor women with awards from across the nation who are influential as women leaders and business owners that empower other women in their respective industries, community, and in faith based organizations.
What's Included in The Event:
The 3-Day Hybrid Professional Development Event will be filled with networking, coaching sessions, conversations, panel discussions, and an in-person upscale empowered brunch at the Hotel At Avalon - Autograph Collection Hotel, where there will be networking, conversations, award presentations, music, shopping, and more! You do not want to miss being a part of what is sure to be the networking in red event of the year.
The Hybrid Event Breakdown.
Virtual Lunch & Learn, Networking Mastery Session on Thursday, February 16th
In- Person VIP Luncheon, 1-1 Coaching Sessions, Spa Day, Registration, Night Mixer, held on Friday, February17th
In- Person Red Dress Brunch Award Experience held on Saturday, February 18th at the Hotel at Avalon.
All Participants Must be Fully Vaccinated to Attend . (Proof of Vaccination Will Be Required)
5 INTERACTIVE CONVERSATIONS FOR FEMALE LEADERS & SENIOR EXECUTIVES
The Venue:
The Hotel at Avalon where you will still have the opportunity to network, create strong relationships and meaningful memories throughout your entire stay.  Within Avalon, they host Atlanta's premier chefs at 26 exciting dining venues, guests of Avalon enjoy a highly curated and elevated shopping experience with over 75 upscale retailers. Additionally our guest can enjoy outdoor living featuring The Avalon's bocce court, swings, and 4 fire pits.
Visit Website To Learn More About #RDEXP2023
Nominations for Women's Empowerment Awards Are Avaliable Until October 29, 2022