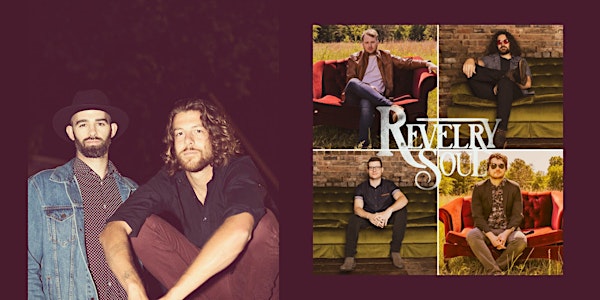 Red Dress Amy and Revelry Soul
Performers
Red Dress Amy, Revelry Soul
Location
The Evening Muse
3227 N. Davidson Street
Charlotte, NC 28205
Red Dress Amy and Revelry Soul
About this event
Born in Charlotte, and raised on rock n' roll, Red Dress Amy brings a ton of energy to any stage they set foot on. The trio draw on influences such as Cream, Jimi Hendrix, The Black Keys, and The White Stripes to cultivate their gritty, high-octane rock n' roll. With their driving rhythms and fuzz-heavy guitar riffs, these guys cross generational audiences. Their sound is reminiscent of some of the iconic classic rock icons they grew up listening to while staying modern and relevant to younger audiences. With this in mind, the boys released "Otherwise Peaceful". Their first full length album in September of 2021. Drawing on songs and ideas from their earlier days together, while also cultivating new material and means of sonic expression, Red Dress Amy's freshman release aspires to capture the combination of their live sound, and their ability to craft and compose combinations of riffs and lyrics. Audiences will experience the full spectrum of the band's musical ability in a live setting. Wide and bulky guitar riffs coincide with raspy vocal deliveries, while the punchy and pounding drum and bass lines help to capture what a power blues rock trio can really do.
Facebook | Spotify | Instagram
********
This high energy quartet of musicians bring a powerful and memorable performance everywhere they go. Their goal is to always grab audience's attention from the first note and beyond. Forming in 2015, fans of all Rock, Soul, and Blues have fallen in love with the bands gritty nostalgic sound.
Revelry Soul has recently opened for local NC/SC headlining musicians, as well as headlining their own shows, and opened for out of town acts such as The Old 97's, and Dominy.
The band released its first original EP "Bad Sign" on September 7th, 2018. The record features fan favorite tunes such as "Workin' Man", "Collide", "Gypsy Soul", and "A Pirate". Their passion and drive have lead to a consistent growth with their following. Revelry Soul looks to expand their name and brand more and more with every performance moving into 2020 and beyond.