Red Bull Nashville Unlocked
THE ULTIMATE CELEBRATION OF NASHVILLE NIGHTLIFE. TEN OF NASHVILLE'S TOP BARS.. IN ONE LOCATION.. FOR ONE NIGHT ONLY. TICKETS LIMITED. 21+
When and where
Location
Rosemary & Beauty Queen 1102 Forrest Avenue Nashville, TN 37206
About this event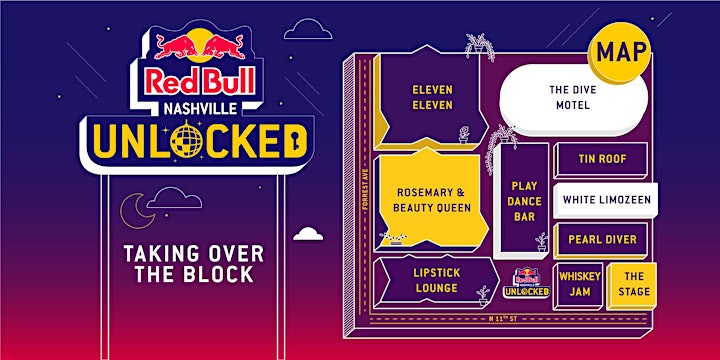 For those with a thirst to celebrate, Red Bull Unlocked is the key.  In cities around the world, the most exciting bars, clubs, mixologists, performing artists and more are taking over a local landmark to showcase their signature ambiance while also collaborating for a must-see mashup.  And now it's Music City's turn to seize the spotlight, as the event brings 10 bars together in East Nashville's Five Points neighborhood.
Red Bull Unlocked celebrates all things local, where music and flavor come to life in a way that only Nashville can curate. Now, nightlife lovers won't have to criss-cross the city or drive in the wake of Music City's "woo-girls" to find and enjoy its favorite local gems; including DJs, musicians and entertainers.
Forget the "Sunday scaries" for one night as Rosemary & Beauty Queen and surrounding properties transform into a celebration of Nashville nightlife.
Local favorites including Pearl Diver, Tin Roof, Play Dance Bar, White Limozeen and more will join forces for one epic night. Full list of bars and partners below.
From the vibes, to the design, to the custom cocktails and eclectic entertainers, Red Bull Unlocked is full of surprises. In short – the fear of missing out is real.
The best of Nashville's entertainment scene with sets from Whiskey Jam, BoomBap, Whiskey Disco, Sparkle City Disco and special performances from Woolworth Theater and more.
The Dive Motel
Lipstick Lounge
Pearl Diver
Play Dance Bar
Rosemary & Beauty Queen
The Stage
Tin Roof
Whiskey Jam
White Limozeen
Woolworth Theatre – Opening Fall 2022!
Eleven Eleven - Opening 2023!
Food (Included in price of ticket)
- Martin's BBQ
- Burger & Co.
- Wild Cow
- Daddy's Dogs
Entertainment
- Sparkle City Disco
- DJ Rate
- Coach
- Case Bloom
- A.B. Eastwood
- Daisha McBride
- Dozzi
- Willie Shaw
- Johnny Hayes
- Jerry Pentecost
- Jim O'Shea
- DJ Stretch
- DJ Griffin Green
- Woolworth Theatre
- The Play Mates
- Kennedy Ann