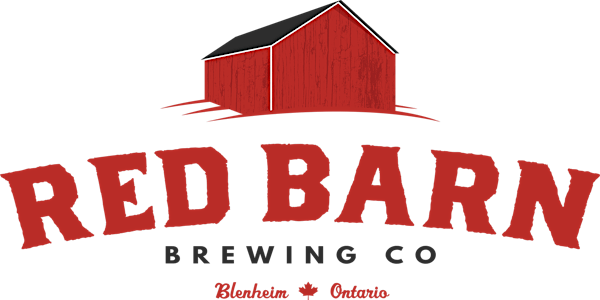 Red Barn Stage Pres: David Boyd Janes ft. Aaron Allen & Brian John Harwood
Event Information
Location
Red Barn Brewing Company
20466 Lagoon Road
Chatham-Kent, ON N0P 1A0
Canada
Refund policy
Contact the organizer to request a refund.
Eventbrite's fee is nonrefundable.
The Red Barn Stage Presents: David Boyd Janes featuring Aaron Allen and Brian John Harwood
About this event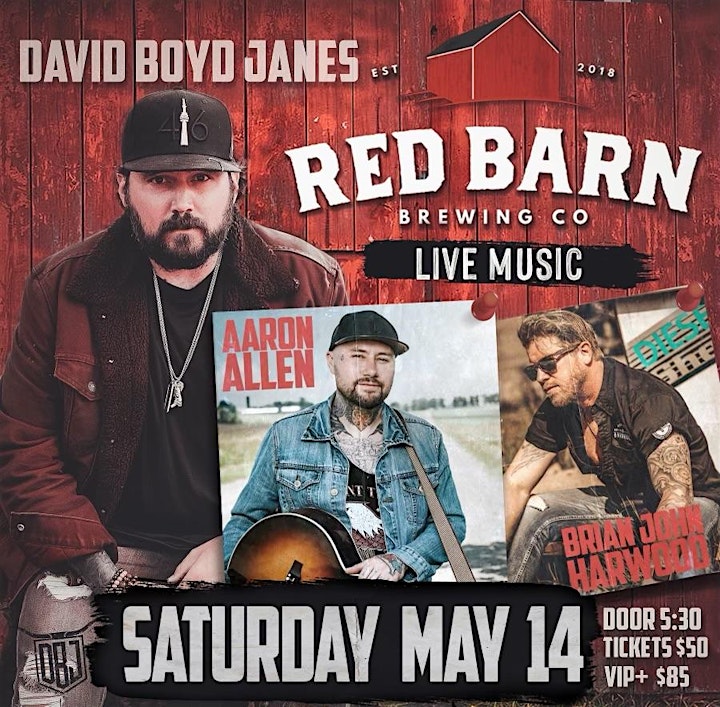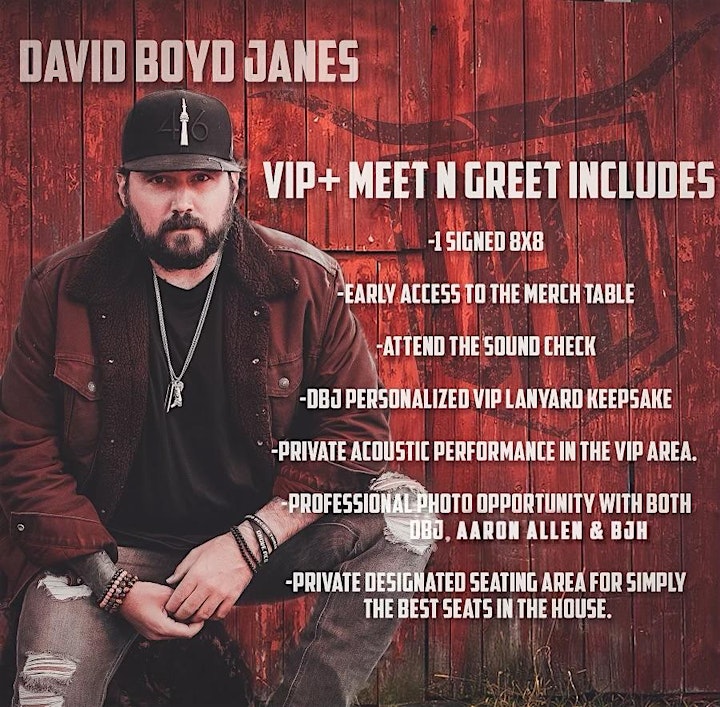 General Admission Tickets- $50* (120 tickets available)
VIP Meet & Greet Tickets- $85* (only 25 available)
Show START 6:30pm.
Doors AT 5:30pm.
*Plus applicable taxes and ticket service and processing fees.
---
This is a 19+ SHOW
1) Tickets are ON-SALE March 4th @ 12PM EST. General Admission tickets are first come, first served for seating/standing tables.
2) Please drink responsibly, don't drink and drive.
----
COVID RESTRICTIONS
-MASKS MUST BE WORN WHEN LEAVING THE TABLE TO USE THE WASHROOMS OR UPON ENTERING/LEAVING THE BARN (as of Feb 26th- this could change by event date).
***Please follow all local and provincial Covid-19 guidelines***
*If you have any symptoms, have come in contact with someone with symptoms or have traveled recently, please stay home.
*Masks are required as per local CK bylaw while walking away from your to table to use the washrooms or to settle your bill while inside of the building.
*Outside alcohol is NOT permitted. Staff has the right to stop service/eject those deemed unfit or not respecting the rules.
*By reserving a seat o table you are adhering to the Covid-19 safety protocols: you have not been in close contact with someone with Covid-19 in the past 14 days, you have not travelled outside of the country in the past 14 days and you have no Covid-19 symptoms.
Family, Farm, and Beer – the three most important things in our life, in which we want to share with you!
ABOUT THE ARTISTS
■ DAVID BOYD JANES ■
With over 6,000,000 digital streams and a top 40 hit on Canadian Country radio, Toronto Ontario native singer/songwriter David Boyd Janes makes good on the promise of his 2020 hit single, "Couldn't Hurt,". With the arrival of his anticipated album, Drove Me Country, with major label Warner Music Canada Janes' brave decision to ditch the safe workday world back in 2017 to follow his dreams is paying off.
"'Til I Found you" was produced by Jeff Dalziel (Washboard Union, Jim Cuddy, River Town Saints) — who also added multiple instruments.
Janes adds "I wrote this song with two of my closest friends, Canadian country artist Elyse Saunders and signer songwriter Craig Brooks. I was traveling home from a small town west of Ottawa and the idea just hit me when I saw a flashing open sign peaking threw the pine trees. The song kinda just wrote itself from a mixture of a personal experience and ultimately what I hoped would one day become a reality. I hope the fans enjoy this upbeat tune and crank er up with the windows down."
The new single showcases Janes' distinctive honey/sandpaper voice and adds to his notably lead single "Behind Bars" that spent 5 weeks at #1 on SiriusXM.
■ Aaron Allen ■
3-time CMAO winner Aaron Allen burst onto the Canadian Country scene in 2019 and immediately started turning heads with his first single, "Where Music Comes From". A family man, tattoo shop owner, and all-around down to-earth guy, Allen's writing style of being transparent about stories from his real-life experiences quickly got him noticed and earned him the attention of local industry shakers and fans alike. Carried by a relatable and genuinely differentiated brand, his ascent was lightning fast by industry standards.
Thanks to his partnership with multi-award-winning Producer Jeff "Diesel" Dalziel, which he credits as a defining turning point in his career, Aaron has learned to craft songs that stand out in the Country landscape. After only 2 years of professional activity, Aaron is already a mainstay on Canadian Country radio, with 7 of his 8 released tracks securing rotation at various stations in Canada, earning him close to 10,000 spins to date. A notable success that was partly made possible thanks to the steady encouragement of his most dedicated supporters, the editorial curators of Apple Music Canada, who have championed him from his first release. Aaron has been featured on 17 different Apple Music playlists since his debut single, including 10 of the 30 Country specific playlists. A feat that allowed him to receive over 4M streams through the streaming platform.
A true writer at heart, Aaron Allen wasted no time to leverage these early successes into a flourishing songwriter career, earning his 1st Top 40 record in Canada this year with Warner Music's David Boyd Janes' "It Couldn't Hurt". Now an in-demand partner on both sides of the border, he wrote over 300 songs in the past year, with collaborators including Danny Mirank, Phil Barton (Brett Kissel, Lee Briten)... all the while building an ongoing relationship with Nashville-based Demolition Publishing (Kenny Chesney, Lee Brice, Maddie & Tae...). A flurry of partnerships which led to his signing by Arts & Crafts publishing in early 2021 to develop the sync side of his career.
With clear momentum behind his singular brand, the ear of influential tastemakers, and a top-level team behind him, Aaron is ideally positioned to become a mainstay in Canadian Country Music in the not-so-distant future.
■ Brian John Harwood ■
Rising Canadian country artist Brian John Harwood has amassed over 2M streams across platforms and cracked top 40 charts (AUS) with his solo project, which debuted late 2019.
He has shared the stage with Dallas Smith, Brett Kissel, Brothers Osborne and many more with his band Kansas Stone, who is best known for their collaborative single "Together We're Strong". Written by Brian and producer Dustin Bird, the single features 17 Canada acts, including Aaron Pritchett, Alee and Jason Blaine to name a few.
In addition to a focus on his artistry, Harwood has co-written songs such as "Country Music" by Alli Walker, along with singles "Letting Go" and "Home" by Owen Barney. "It's a lot of hard work, but I'm beyond grateful for every second of it!" says Harwood as he discusses his upcoming summer tour, which features dates with Tebey, The Road Hammers, River Town Saints, and more.
Brian's upcoming release "Savin' Up For A Friday" speaks to Brian's "work hard, play hard" mentality. Produced by Dustin Bird and featuring Canadian legend Jason McCoy, this powerhouse of a feel-good track drops Friday, Feb. 18th.
Date and time
Location
Red Barn Brewing Company
20466 Lagoon Road
Chatham-Kent, ON N0P 1A0
Canada
Refund policy
Contact the organizer to request a refund.
Eventbrite's fee is nonrefundable.