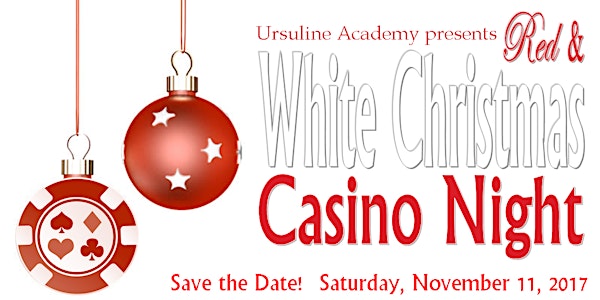 Red and White Christmas Casino Night
By Ursuline Academy Advancement Office
Date and time
Saturday, November 11, 2017 · 7 - 11pm EST
Location
Ursuline Academy Gymnasium 1106 Pennsylvania Avenue Wilmington, DE 19806
Description
Parents, family, and friends of the UA community are invited to attend this adults only evening of holiday cheer as you test your luck at the casino tables and shop the night away at the Silent Auction and Class Basket tables. Many opportunities for fun and fellowship with all proceeds going to the tuition assistance program at Ursuline Academy.
FAQs
What is Casino Night?
It's a fun evening on November 11th in Ursuline's gym for anyone 21 or over to eat, drink, play casino games, make new friends and party with old ones.
You can try your hand at roulette, blackjack, poker, and the big 6 money wheel with the $100 in "Funny Money" that is included in the cost of your ticket. Extra "Funny Money" can be purchased at the casino and used, with the help of some luck, to grow your personal pile of Funny Money cash. Your winnings can be redeemed for prize coupons used to enter drawings for a few fabulous prizes.
In the past big winners have walked away with bikes, a paddleboard, even a $500 Visa gift card!
If casino games aren't really your thing, there are plenty of other reindeer games of chance that will keep you busy.
Casino Night is also an excellent opportunity to do some early Christmas shopping at the Silent Auction and Class Basket tables. Each Class Basket and Silent Auction item has been carefully curated to include some of the season's must have items and one-of-a-kind experiences you can't find anywhere else.
You mentioned food and drink, what can I expect?
You can expect heavy holiday hors d'oeuvres and one drink ticket you can use for a serving of beer, wine, or soda. Additional beer, wine, and soda will be available throughout the night for purchase.
Do I need to bring cash to the event?
Cashiers will be on hand to accept cash, checks, and credit cards all through the evening for purchases of extra drink tickets, extra gaming chips, and for other games of chance opportunities. Cashiers will also be available at the end of the night during check-out for the Silent Auction and Class Baskets.
What should I wear to such a fun event?
This year's theme is Red and White Christmas. If you feel inspired to dress in the spirit of the holidays – then by all means, please do. Most importantly, we want you to have a good time and enjoy yourself. So as long as you dress casual and comfortable, you can't go wrong.
Where does the money go that is raised from Casino Night?
Casino Night is an Ursuline fundraiser. Proceeds raised from sponsorships, ticket sales, Silent Auction, Grade Baskets, etc. enable the school to provide a first-class, college preparatory education to Ursuline students through our tuition assistance program.
This all sounds like so much fun, how can I help?
Contact Debbie Hurd, Director of Advancement at dhurd@ursuline.org or 302-658-7158 ext. 207 and she'll be happy to speak with you on ways you can help.
Sadly, I can't come but I still want to help.
We will miss you, but have you considered being a sponsor for the event? Sponsorship opportunities start at $100. Contact Debbie Hurd, Director of Advancement at dhurd@ursuline.org or 302-658-7158 ext. 207 for more information.