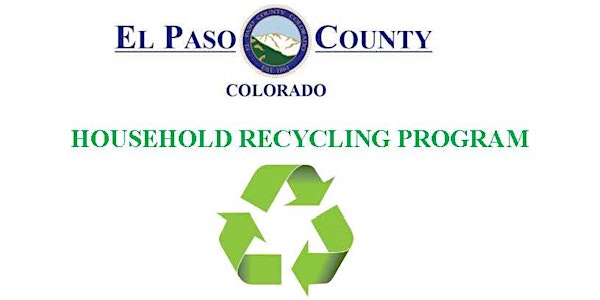 RECYCLING Appointments March 2023
Recycling Appointments March 2023
By El Paso County Community Service Department - Environmental Division
Location
El Paso County Household Hazardous Waste Facility 3255 Akers Drive Colorado Springs, CO 80922
About this event
30 days 22 hours

Mobile eTicket
El Paso County Environmental Division requires an appointment for household recycling (see complete list below).
ITEMS ACCEPTED FOR RECYCLING:
All items must be clean prior to drop off (free of food, liquid, dirt, etc.)
♲ Cardboard: Old Corrugated Cardboard (OCC) only. NO soda boxes, cereal boxes, frozen food boxes, etc.
♲ Glass: Food & Beverage only (no lids/corks)
♲ Aluminum Cans
♲ Steel Cans (must discard paper)
♲ Newspaper
♲ Office Paper: No shiny paper (such as wrapping paper), no paper smaller than 8 ½ x 11"
✗ NO PLASTIC, NO STYROFOAM. If the item you are looking to recycle is not listed here, it will NOT be accepted in the bins. El Paso County reserves the right to refuse items. You may refer to the online Recycling Directory for alternate options.
For Hazardous Waste (paints, chemicals, electronics, etc.), visit the Household Hazardous Waste Page to schedule a separate appointment. Program is FREE and open to El Paso & Teller County household residents.
**Please note that the gates will close at 11:30 am for recycling and re-open at 1:00 pm for hazardous waste. (This does not apply to appointments on Saturdays).**
_____________________________________________________________________________________________________
TERMS & CONDITIONS
HOUSEHOLD HAZARDOUS WASTE LIABILITY RELEASE & CERTIFICATION STATEMENT: I hereby declare and affirm of my own personal knowledge that the items delivered to the El Paso County Household Hazardous Waste Collection Facility was, in fact, generated through household use and is not business or commercial subject to federal or state waste regulations. I understand that should I surrender any data containing device to the El Paso County Household Hazardous Waste Facility for recycling it is solely my responsibility to protect my personal information. I further agree to defend, indemnify, and hold El Paso County harmless from and against any and all liabilities, demands, claims, damages, suits, judgments and decrees, and court awards including costs, expenses and attorneys' fees, on account of injuries to or death of any person or persons or damage to any property or personal information arising out of or related to my willful misconduct or negligent acts, errors or omissions for the duration of my participation. I understand that the items will be accepted at the Household Hazardous Waste Collection Facility in reliance on the accuracy and truth of my foregoing declaration / affirmation.