Description
Recycled Resources is the little engine that could, trying to build services for our homeless-neighbors in NELA. Come meet other volunteers in your community, bring your Friends and Family, and help support their cause!
Join

us

for an early evening BBQ, games, and laughs…
Check out the All-Star lineup of local guest comics!
DJ Carlos Nino! (KPFK, DubLab)
BBQ Starts @ 6:30pm
Comedy Show Starts @ 8pm
General Admission- $10
Admission+BBQ+Comedy Show- $20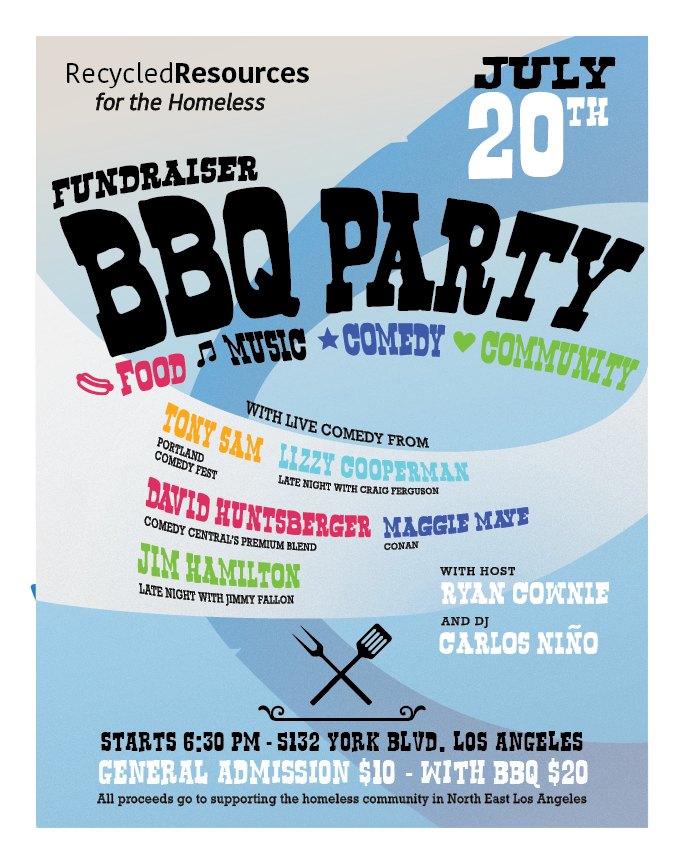 Recycled Resources for the Homeless is a small nonprofit organization that started in 2008 in Northeast Los Angeles (NELA).

We call our organization Recycled Resources because we firmly believe that if everyone recycled resources with a little bit of spare time, untapped creative abilities, and expertise, there would be enough shared resources for everyone to safely co-exist. Our mission is to reduce harm to our neighbors experiencing homelessness. Our goal is to create programs that reduce harm to all people living in the community and support other communities when they attempt to implement these programs. Most of our work is made possible by the relentless and passionate work of our volunteers. Our ability to operate programs is made possible by the generosity of our neighbors, local business, and city leaders. We are outside the box thinkers and believe traditional homeless services and approaches need to be diversified.
Do not feel the problem of homelessness is so vast that you cannot make a difference so you do nothing; everyone doing something small can have a monumental impact. Please join us!

For more information about our shelter and outreach programs and how you can help please visit us at RecycledResources.org