Description
Class Description
This class is based on using any type of container (that would normally be tossed out or recycled) and upcycling it into art work. Please bring cardboard boxes from snacks, washed and properly cleaned plastic containers from perishable foods, plastic silverware, ribbon, paper towel rolls, chip bags and anything else you would typically throw away. One person's junk is another person's treasure!
Instructor Bio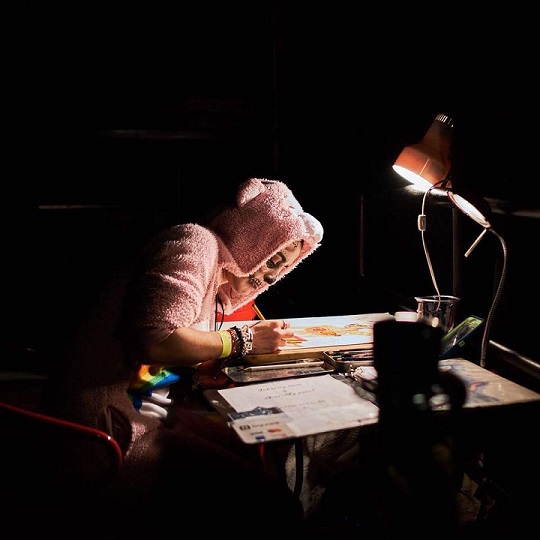 Ink is an artist hailing from Maine. Her roots of public painting began from graffitiing on walls, under bridges and abandoned buildings. She started with just a little "toy" name that complimented her love of hip-hop. From that love erupted her creative mind to branch out more; to follow her true calling, her passion and make her tools be an extension of self. Her art is more than just an expression and creative outlet, to her it is another form of entrainment. She tries to capture environmental dilemas, beauty, humor, everyday life and emotions to help people see life in her perspective.
IMPORTANT EVENT INFO
Class fees All class fees include materials.
Donations: Want to throw a little extra in to support our scholarships? There's a donation option at registration to add any amount that you want to pay forward. A donation receipt will be included with your registration confirmation email.
Refund policy: We currently do not offer refunds or transfers between classes. You may, however, transfer your ticket to another person who is 18 or older. If you need help finding someone to take your spot, you are welcome to post in the class event on our Facebook page, or ask us to share your email address with the class waitlist.
Other FAQs
What is your refund policy?

Refunds are offered up to 7 days prior to the event.
When and where to arrive?

Plan to arrive 5-10 minutes before class to settle in and be ready to go! Signs inside the entrance will guide you to our classroom.
What to bring/not to bring?

Bring a laptop computer. If you do not have one of your own, then we can arrange for a computer on site for you.

For your personal safety, please wear closed-toe shoes, tie long hair back, and avoid any dangling jewelry or baggy clothing. You may also want to bring a water bottle and a snack.
Do I have to bring my printed ticket?

No - we'd prefer to save a few trees! We can look up registration details electronically if need be.
Is there an age limit?

This class is intended to for Kids 8+
Other questions? Email us at manager@bellinghammakerspace.org
The Bellingham's Makerspace is a volunteer-run nonprofit that provides access to high tech and traditional tools, workspace, classes and community connections. Join our wonderful community of creative people making awesome things. We are always looking for new volunteers and teachers. What's your passion?