Description
Join us at Recycle-A-Bicycle's annual benefit
18th Birthday Party
and
Hurricane Sandy Bike Relief
Monday, December 3, 6:30pm
Housing Works Bookstore & Cafe
126 Crosby Street
between Houston & Prince Street in Soho, NYC
Hurricane Sandy was devastating.
Recycle-A-Bicycle's own warehouse and job training center received 3 feet of water in the storm surge that came with the hurricane and caused an electrical fire in the building. We are re-focusing to prioritize Sandy relief efforts for our coastal neighborhoods that need it the most.
Let's take this opportunity to celebrate life, friendship, and renewal. We would not be here without you.
Thank you.
Honorees:
Jon Orcutt
Policy Director for the New York City Department of Transportation
Carolyn Szczepanski
Director of Communications for the League of American Bicyclists
with a performance by New York Bike Dance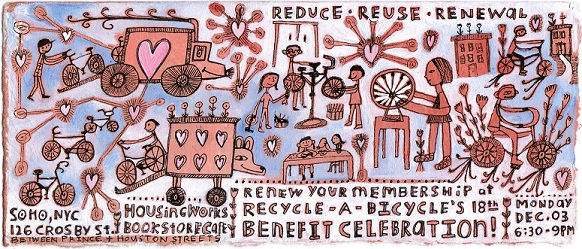 Board Chair Alison
Novak,
Alan Ando,
Ethan Auslander, Eugene
Colberg, Ben
Collamore,
Rich Conroy,
Ariff
Hajee,
Christine
Koenig,
Karen
Overton, Peter
Reich
Matthew
Rogers,
Sheethal
Shobowale
Brought to you by our amazing host committee:
Councilmember Danny Dromm,

Councilmember Jimmy

Van Bramer,
Melissa Abramson,

Erin Barnes,
Louise
Bruce,
Emilia
Crotty,
Sara
Elinson,
Ed
Fishkin,
Peter
Gee,
Tamara Greenfield,
Elizabeth
Hamby,
Jessame Hannus,
Jennifer Harris-Hernandez,
Francesca
Hayes,
Jeffrey
Helfgott,
Dylan
House,
Jaclyn
Jablkowski, Ellen Jaffe, Liz Jose,
Shelma
Jun,
Inbar
Kishoni,
Kevin LaVerdiere,

Joe

Lawler,

Jeff

Mi

ller, Richard Negron,
Hatuey
Ramos-Fermín,
Caroline S
ampanaro,
Jason
Schwartz,
Laura
Solis, Paul Steely White,
Sarah Timmins-DeGregory,
Ki

m
Wiley-Schwartz,
Pasqualina Azzarello, Helen Ho
Special thanks to our sponsors of the evening: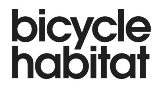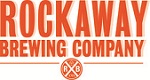 All guests at the benefit will receive an automatic membership (discounts!)
to
Recycle-A-Bicycle.
Your donations help to support RAB youth programs, including Earn-A-Bike, Kids Ride Club, Youth
Ambassadors, and Bike Bonanzas.
Thank you for your support of Recycle-A-Bicycle! RAB is a 501(c)3 non-profit organization. All donations are tax deductible.
For more information www.recycleabicycle.org