Recruiting, strengthening, and retaining quality educators with ThriveCast
Does your district have dreams of recruiting, strengthening, and retaining quality educators?
About this Event
You're invited to learn more about Thrive Cast, an app-based professional development tool designed to reach, connect, and support educators.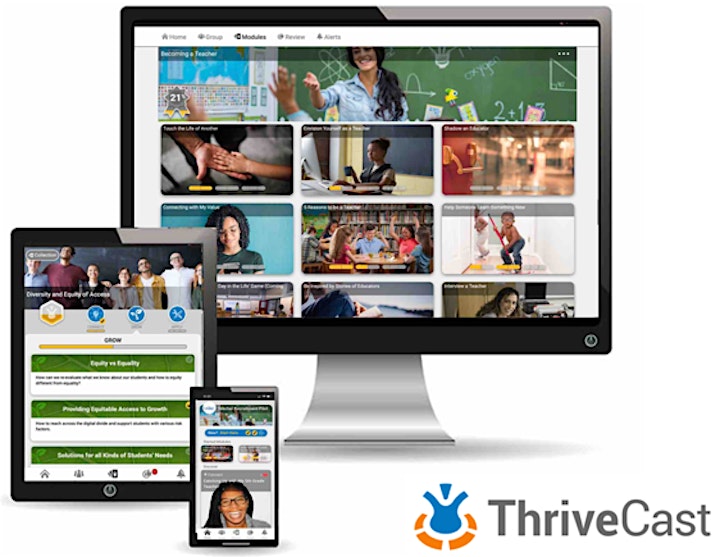 Join this webinar and learn more about how this free to low-cost opportunity could serve your district, school or organization.
Instead of having PD to consume content, Thrive Cast facilitates skill application, collaboration and real-world impact. Learn how educators can chart their own course through relevant topics to level up and earn micro-certificates to demonstrate their real-world outcomes. Currently, Thrive Cast has these offerings for educators:
Teaching Strong Remotely - Go beyond content delivery to provide students with meaningful growth and ongoing personal connection, where students are seen, valued, and growing strong.
New Educators Thriving Together - Classroom & Distanced growth topics especially relevant for teachers new to teaching, within a community for mentorship, support, and sharing solutions.
Cultivating Growth for my Students - PD growth opportunities for all educators to evolve their pedagogy and practices, with a student-centered, growth mindset approach.
Me as Future Teacher – Designed for Recruitment, these modules let future teachers explore teaching and gain initial experiences, including a 3D immersive game to live a day as a teacher!
Your District Content - Collaborate with us to add your own district content within these digital infrastructures to better reach and connect your teachers around your PD goals.