Recruiting Professional Volunteers

Wednesday, October 3, 2012 from 1:00 PM to 2:00 PM (CDT)
Event Details
Presented by Drew Tulchin of Social Enterprise Associates, with Ian Fisk of The William James Foundation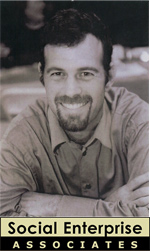 Finding qualified professionals to contribute as volunteers can be a challenge. This webinar provides leaders of non-profit organizations and social purpose businesses with tips and logistical steps to successfully engage professional volunteers, access new relationships, and build board membership. Attendees will be provided a guide, a list of specific steps, a framework for identifying the types of contributors needed, and sample job descriptions. Ian Fisk, Executive Director of William James Foundation, has agreed to serve as a living case study, illustrating how they have recruited more than 100 professionals to participate in triple bottom line efforts.
Join us Wednesday, September 3d at 1:00 Central (2:00 Eastern) for this live one-hour webinar with Q&A.
All registrants will receive a full video recording and printable slides. Sign up today and watch whenever it's convenient!
Organizer
Social Enterprise Alliance
Since its inception as The National Gathering for Social Entrepreneurs in 1998, the Social Enterprise Alliance (SEA) has been the champion and key catalyst for the development of the social enterprise sector in the United States. Our vision is for social enterprise to reach its potential as a force for more effective and sustainable social impact. We empower social enterprises with the tools and resources they need to succeed, and work to foster a social enterprise ecosystem in which they can thrive.