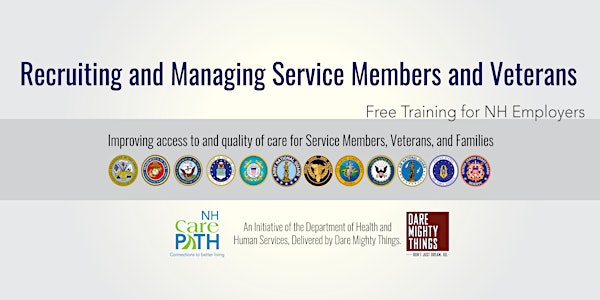 Recruiting and Managing Service Members and Veterans: Free Training for NH Employers
When and where
Location
Pease Tradeport One New Hampshire Ave The NH Room Portsmouth, NH 03801
Description
In this training, participants will learn about the benefits of hiring Veterans and Service Members and the transferrable skills that they bring from their military experiences. The lesson will uncover strategies for attracting and recruiting Veterans and Service Members. Participants will also learn about challenges that Veteran and Service Member employees may face in returning to a civilian workforce and strategies to effectively manage and support them.
Topics that will be addressed in this training include:
Ask the Question

Benefits of Hiring Service Members and Veterans (SMV)

Strategies to Attract and Recruit SMV

Strategies to Effectively Manage SMV
Intended Audience: Recruiters, Hiring Managers, and Supervisors from ALL Industries
Reserve your seat today!
This training is delivered by Dare Mighty Things (DMT). With its roots in Portsmouth, NH, DMT has been a trusted partner of government agencies, nonprofits, and foundations for over 25 years. On a national scale, DMT has been instrumental in providing training for Service Providers, Veterans, Service Members, and their Families.
Speakers:
Colonel (Ret) Ted Kehr, MS
Col. Kehr completed more than forty years of meritorious service in the U.S. Army and the New Hampshire National Guard. His civilian background, which includes fifteen years in public education at the secondary and collegiate level, allows him to excel as he continues to lend his collaborative skills to strategic initiatives at the state and national level, including providing training to civilian providers on military culture. Col. Kehr also served as the Director of Employer Support for the National Guard Bureau, and served as Executive Director and currently volunteers for the NH Employer Support of the Guard and Reserve (ESGR).
Julie Golkowski, LCMHC
For over 25 years Julie Golkowski has been working with youth and their families as a counselor, psychotherapist, supervisor, consultant, and clinical coordinator. She served as Director of Child Adolescent and Family Services in a community mental health center and is a comprehensive subject matter expert in serving the holistic needs of veterans and military families throughout the deployment cycle. She has been an adjunct faculty member at the University of New Hampshire and Antioch University, and a statewide and national presenter at conferences covering topics in the fields of resilience, trauma, post traumatic stress disorder, child and adolescent sexual abuse, suicide prevention, and the neuroscience of brain development as it relates to attachment theory.
An initiative of the New Hampshire Department of Health and Human Services