Re:Creation Feat. NiT GriT

Friday, December 16, 2011 at 10:00 PM

-

Saturday, December 17, 2011 at 4:00 AM (PST)
Event Details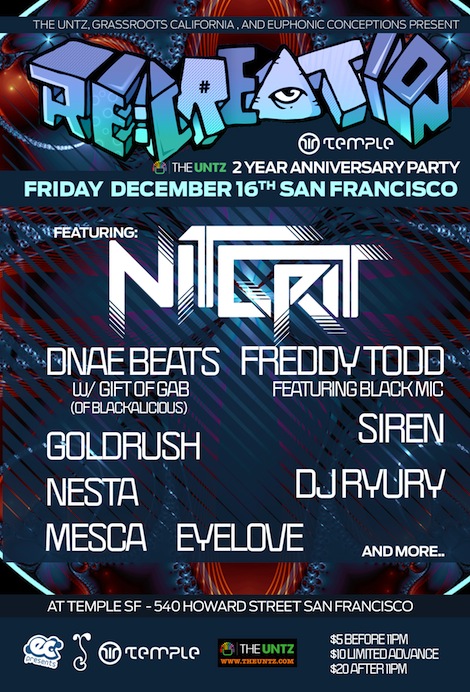 Main Floor
NiT GriT
Freddy Todd (Feat. Black Mic)
DNAE Beats (Feat. The Gift of Gab)
Ryury
Siren
Catacombs
GoldRush
Brandi
Eyelove
Nesta
Destiny Lounge
Paul Hemming
+Special Guests

About NiT GriT: The dubstep electronic genre has emerged as a force in the United States, and no one embodies its momentum more than San Jose based artist NiT GriT. One of the most prolific and hardworking of the new field of dubstep/grime performers, his current music was formed in his home turf of the Bay area from a background in glitch, idm, and breakcore, and is set apart by its soulfulness and melody. True to the trend towards dramatic entrances in so many of the new fraternity of sensational dubstep artists, NiT GriT burst on the scene with his first show in March 2010 in a co-billing with Excision.

Dine at Ki, our new Izakaya Bar, now serving fresh Japanese cuisine and sushi! Dine at Ki on Friday or Saturday and receive free entry to Temple ($25 minimum per person for free entry). 

Parties larger than six that wish to receive free entry to Temple Nightclub must purchase pre fixe meals. Reservations are required two days prior. For Reservations call (415) 278-0495 or click here. For more information on Ki, visit ki-sushisf.com. Large parties receive free tickets to the nightclub and avoid long lines. 
Re:Creation Feat. NiT GriT