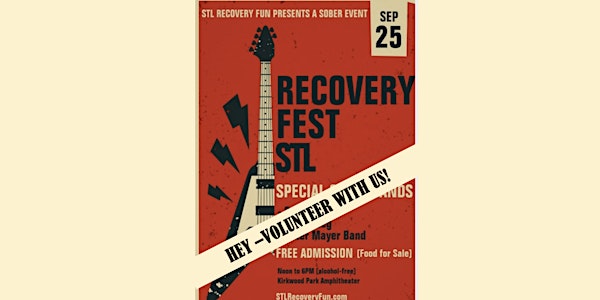 RecoveryFest STL Volunteer Crew
Seeking Volunteers for this Sober-Social Concert Event on Sunday, September 25th at 12:00 Noon
When and where
Location
Kirkwood Park 111 South Geyer Road Kirkwood, MO 63122
About this event
Maybe you've already heard about the upcoming RecoveryFest STL event and put it on your calendar. It's the first of its kind in our city and it's going to be fantastic.
We've booked three of the area's favorite bands to perform at the Kirkwood Park Amphitheater for the free, day-long event: Jake's Leg, Galaxy Red, and the Peter Mayer Band. We'll start at noon and end at 6pm. There's a big picnic area next to the amphitheater, and there will be several food trucks selling great food to festival goers.
Here's the deal. I could use volunteers to help me make the event as successful as it can be. I don't have specific assignments or a precise schedule, but in general we will:
Set up, take down signage
Help direct traffic to parking
Greet guests in Kirkwood Park and direct them to the amphitheater and picnic area
Pick up light trash during or after the festival
As a RecoveryFest volunteer, you'll get that feel-good boomerang effect that goes with service work for our community. And you'll get a FREE COOKIE from the home-baked cookie truck vendor.
COVID has kept us too far from each other for too long. With your help we can make this festival the best it can be.
Just fill out the registration form with your name, email address, phone number and the time you'd like to help. We'll be back in touch with more info on your participation.
Great big thanks,
Jim Murphy
P.S. Please help us spread the word to more prospective volunteers. Just copy the URL in the search bar and send it to your text and email contacts.